The invitation read 'The Spectrum Group cordially invites you to attend their Annual Holiday Celebration". Sounded good to me, for after a hard week's work at the office, a party on Friday night at the famous Key Club on Sunset in West Hollywood was a great way to begin the weekend. Besides, free drinks, free dinner, good music and a night out with just my wife (no kids) made it a definite go. The only drawback was the traffic getting there, and a little rain here and there. Oh yeah, for those who don't know, the Spectrum Group are the people behind Vyotech Nutritionals, probably one of the biggest up and coming sports nutrition companies of the year, with products like Viraloid, and 17HD, and some very interesting items coming up for next year.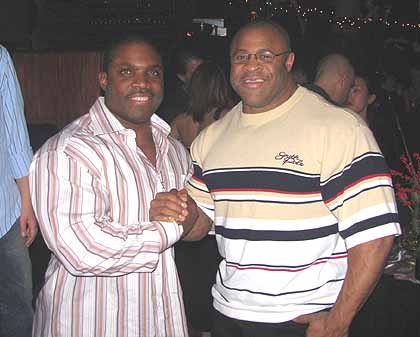 Some of the bodybuilding competitors that they sponsor include Shawn Ray, Bill Wilmore, and Melvin Anthony. And these guys were a big sponsor of the 2005 Mr. Olympia, and also are sponsoring the first IFBB Colorado Bodybuilding Pro show in Denver, which hasn't had one in a very long time.
We arrived around 8pm, gave the car to the valet, and went up to the bodyguards at the door. After checking the list (the entire club was for the party), we went in. Once we were in, we were treated to an awesome site.
For those we have not been to the Key Club before, there are three levels to the club. The level that we entered on was the second level, featuring the stage where the bands play, which was all decorated with holiday spirit. Also, a few bars here on there, lots of couches, and lots of television screen, both on the walls, and in the floor (quite interesting). There were four carolers dressed up singing Holiday songs, and a Jazz band paying on the stage. Fake snow would sometime come out from above, making you really feel in the Holiday spirit.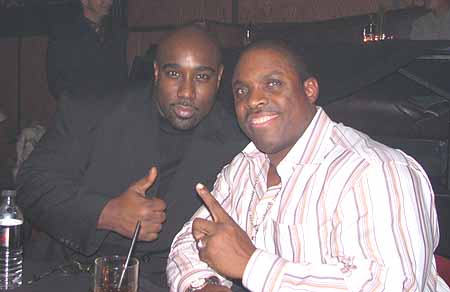 On the top level, you have another bar, a lot of tables, and this was were the buffet was served. And boy, was the buffet great. Prime rib, broiled salmon, grilled chicken, fresh grilled vegetables, mashed potatoes served in a champagne glass, and your drinks served with a lighted red ice cube, which made the entire room look pretty awesome of everyone having lighted glasses that shone red. We ate winner with Melvin and Ivette Anthony, and Jay Hammett, the man behind the "Road to the Pro's" reality show, came and said hello.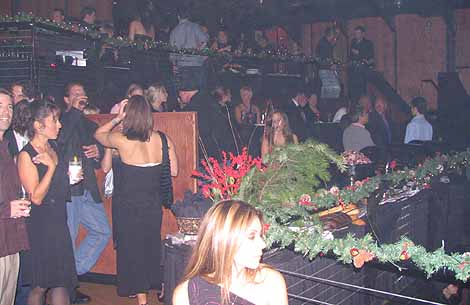 Downstairs, they had a piano player playing, and another full bar, complete with cozy couches for those who didn't want to hear the jazz band. And there was one more thing down here which made it very worthwhile to check it. The dessert bar. Lots of great little cookies and cakes, but the one thing that stood out was the milk chocolate fondue falls, where warm flowing chocolate came down, and you had your choice of marshmallows or strawberries with a stick to get some of that yummy chocolate. That was really neat. And yes, I had to indulge a number of times, it was that good.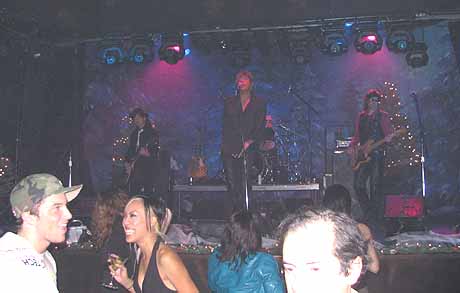 Once dinner was done, a new band came up to play, and for a number of us, this was the highlight of the evening. This band, all the way from England (or so they said) played English band 80's music, which was just fine for us. They covered groups like Madness, Human Leage, Duran Duran, and quite a number of others with excellent hits, and a lot of gusto. Pretty soon the dance stage was hopping with people, and all were having a great time. All in all, it was one great evening!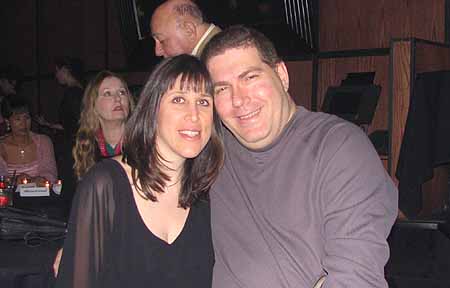 Lori and Ron having some fun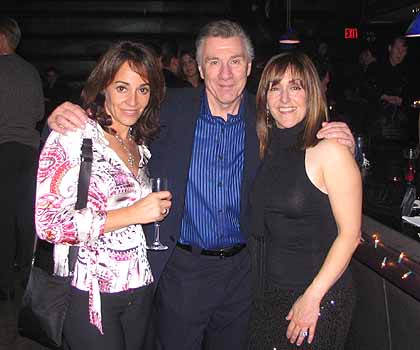 Jim & Debbie Manion were enjoying the party!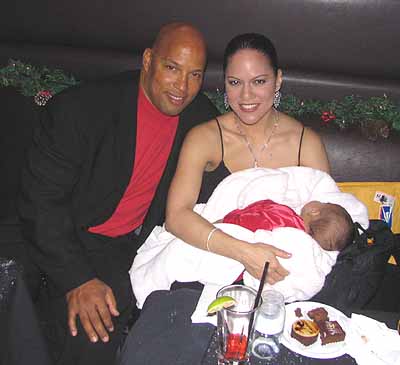 Shawn & Kritsi Ray with Asia relaxing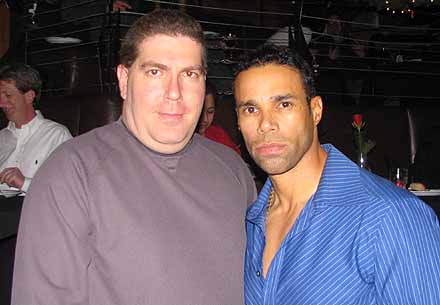 Kevin Levrone with Ron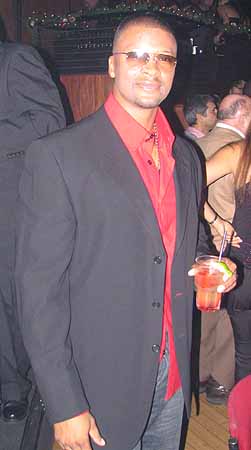 Iyon Wade, special rep from Vyotech
There were a lot of others there, and once again, we wished Bob Chicherillo a happy 40th birthday, but this evening wasn't one for me to take a lot of pictures. It was one to enjoy, relax, and spend some time talking, and even a little dancing.
And also one for saying thanks to Vince & Spiro Kandis for this wonderful night and their hospitality. It was truly one party to be remembered, and certainly one of the great Holiday parties that I have been too!!!