March 1998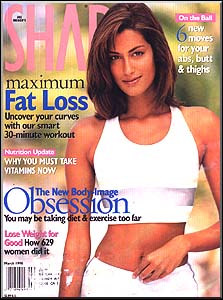 Shape Magazine is geared for women who take care of themselves through fitness, aerobics, nutrition, etc. The editorial advisory board includes 25 of the most well-respected medical and health care professionals in the country. The model on the cover is Yasmeen Ghauri.
---
March 1998 - Table of Contents
---
Special Section:
SPECIAL SECTION
Obsessed
FEAR AND LOATHING OF FOOD
Does your diet consume your life? Take our quiz and find out if your health pursuits are actually unhealthy.
EXERCISE OUT OF CONTROL
What happens when burning calories and fitting in one more workout are all that matter?

Exercise:
DO IT RIGHT
Start toning your triceps with one smooth move.
FITNESS FRONTLINE
How 629 woman lost weight for life.
RUT BUSTER
If you're struggling through your workouts, the solution may be as simple as a little rest.
ONE ON ONE
Three easy moves for beautiful quads.
BODY BREAKTHROUGH
Let your curves shine through and beat a fitness plateau with our maximum fat loss workout.
BALANCE CHALLENGE
Get on the ball: Six moves and 30 minutes to better strength, flexibility and balance.

Diet & Nutrition:
NUTRITION
Homocysteine: What you need to know about cholesterol's new rival.
RECIPE MAKEOVER
Light Cheddar Chowder.
DO YOU REALLY NEED SUPPLEMENTS?
A mere 1 percent of Americans meet the minimum standards for dietary adequacy. Can taking vitamins help?
GET STEAMED
Reconsider this healthy, versatile cooking method.

Style:
BEAUTY IN ACTION
Light as air makeup that lets you shine through.
GEAR UPDATE
Cool new toys and tools for the outdoors.
FLY GIRL
High tech clothes for your next action adventure.

Mind / Body Health:
IN SHAPE
What's new, what's hot in health and fitness: steps for kicking foot pain... unloading old exercise gear... diabetes update and more....
HEALTH
There's no apparent cause or cure, so what can you do about irritable bowel syndrome.
WEIGHT LOSS Q&A
Answers to your most pressing weight loss questions: breakfast and morning workouts... unstoppable binge eating... do energy bars and sports drinks really give you a lift?
SUCCESS STORIES
Angelique Fike, Nicole Toussaint and Milli Sorrentino share their weight loss accomplishments.

Sports & Adventure:
PLAYERS
More and more women are competing in team sports; here's what they get from it.
THE SANDS OF TIME
Survival skills allow our writer to trek through one of the earth's vast sandboxes.

In Every Issue:
From the Publishers: By Joe and Betty Weider
Advisory Board
Contributors
Shapescene
Hot Lines: From our readers
Buyer's Guide: For retail information
Just Out: It's up and coming and you heard it here first