January 1998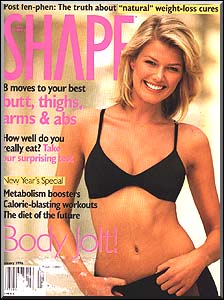 Shape Magazine is geared for women who take care of themselves through fitness, aerobics, nutrition, etc. The editorial advisory board includes 25 of the most well-respected medical and health care professionals in the country. The model on the cover is Ingrid Seynhaeve.
---
January 1998 - Table of Contents
---
SPECIAL ENERGY: BODY JOLT
BLASTOFF 2000
Meet the new millennium head on!
BRAIN BLASTERS
Tips to get and keep you alert and stimulated
JUMP START
A metabolism boosting rope workout.
SPORTS WIRED
A conditioning routine to wake up the athlete in you.
GOOD SCENTS
Putting 'invigorating' aromatherapy products to the test
PLANT POWER
The diet of the future: a five day meal plan.

EXERCISE
DO IT RIGHT
Ease your aching back with this soothing spinal twist
RUT BUSTER
Get the expertise of a trainer without busting your budget
ONE ON ONE
Three marvelous middle back moves
MOVERS & SHAPERS
Eight great exercises for your butt, thighs, arms and abs.

DIET & NUTRITION:
RECIPE MAKEOVER
Guilt free Mediterranean Turkey Roulade
SHOPPING SMART
Super light soups
SEX, LIES & CHOCOLATE COVERED CREAM DOUGHNUTS
Three readers expose their eating habits to a nutritionist on a mission. How's your diet rate?

MIND / BODY HEALTH
IN SHAPE
What's new in, what's hot in health and fitness: the lowdown on shinsplints ... turn gym time into free air time ... Miami beat.
INNER SHAPE
The science of women's institution.
HEALTH
The minority women's health gap.
WEIGHT LOSS Q&A
Your pressing questions answered.
SUCCESS STORIES
Tara Martin, Carol Cortiler and Kim Piche look and feel great. Here is how they did it.
IT'S ONLY NATURAL
Are 'natural' diet drugs safe?

STYLE
BEAUTY IN ACTION
Beyond your basic facial - today's spas work from the inside out.
GEAR UPDATE
The best home cardio equipment for your buck
PEAK SEASON
Standout ski wear.

SPORTS & ADVENTURE
TAMING THE TERRIFIC 5
The beginner's guide to adrenalin sports.

IN EVERY ISSUE
From the Publishers: By Joe and Betty Weider
Advisory Board
Contributors
Shapescene
Hot Lines: From our readers
Buyer's Guide: For retail information
Just Out: It's up and coming and you heard it here first