December 1997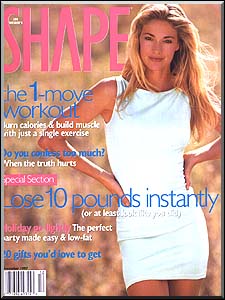 Shape Magazine is geared for women who take care of themselves through fitness, aerobics, nutrition, etc. The editorial advisory board includes 25 of the most well-respected medical and health care professionals in the country. The model on the cover is Elaine Irwin-Mellencamp.
---
December 1997 - Table of Contents
---
Exercise:
DO IT RIGHT
Make your abs fab using correct form and one simple band.
FITNESS FRONTLINE
How much exercise do you really need?
RUT BUSTER
Beat the indoor winter workout blues with a cool alternative.
ONE ON ONE
Three easy moves for a strong, beautiful back.
IT'S YOUR MOVE
One simple, complete exercise is all you need to stay fit this season
SPECIAL SECTION
LOOK 10 POUNDS THINNER
Strategies to slim you instantly - an exercise and fashion exclusive.
BODIES, MIND AND MOTION
Express yourself. Learn how to let go with dance therapy, and acquire some handy coping skills while you're at it.
BAYWATCH BRAWN
Gena Lee Nolin and Donna D'Errico show you what it takes to build the best bods on the beach,

Diet & Nutrition:
RECIPE MAKEOVER
Scalloped potatoes go light.
HOLIDAY GO LIGHTLY
The uncomplicated guide to throwing a low fat bash.
VISIONS OF SUGARPLUMS
Old fashioned holiday desserts to stir the soul.

Style:
BEAUTY IN ACTION
Get glam in no time with our tips for hair.
GEAR UPDATE
Great tunes to keep you moving.
GIFT OF INSPIRATION
Stuck for ideas? Try these fitness gifts with heart and bag a few for yourself.

Mind / Body Health:
IN SHAPE
What's new in, what's hot in health and fitness: light airport food... female endurance edge? ... HIV testing options.
INNER SHAPE
Is confession really that good for you?
HEALTH
The lowdown on excessive hair growth.
SUCCESS STORIES
How Adrienne Antoine, Sandra Vallejo Davila, and Ibis Rodriguez got lean for life.

Sports & Adventure:
ESCAPES
On the slopes: a different kind of boarding school.
TRAVEL
The wild side of Yellowstone.

In Every Issue:
From the Publishers: By Joe and Betty Weider
Advisory Board
Contributors
Shapescene
Hot Lines: From our readers
Buyer's Guide: For retail information
Just Out: It's up and coming and you heard it here first