November 1997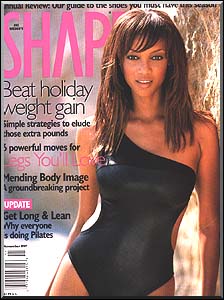 Shape Magazine is geared for women who take care of themselves through fitness, aerobics, nutrition, etc. The editorial advisory board includes 25 of the most well-respected medical and health care professionals in the country. The model on the cover is Tyra Banks.
---
November 1997 - Table of Contents
---
Exercise:
ONE ON ONE
Calf work for strong, beautiful lower legs.
DO IT RIGHT
Reach hard to target muscles with an inner thigh squeeze.
LEGWORK
Six kick butt moves to help you get legs you'll love.
THE POWER OF PILATES
The scoop on the dancer's strength workout: what it is and how you can benefit, plus exercises to keep you lithe and limber.
Diet & Nutrition:
RECIPE MAKEOVER
Tortilla Turkey Soup.
SHOPPING SMART
Low fat frozen pancakes and waffles to fuel your mornings.
AVOID THE HOLIDAY SEVEN
Trimming the tree may be an annual custom, gaining weight during the holidays doesn't have to be. Our guide will show you how to stay lean from start to finish.
VEGGIE THANKSGIVING
How to have a satisfying, turkey free day. With these mouthwatering recipes, you won't even miss the bird.
Style:
BEAUTY IN ACTION
Going away? Tried and true antics for looking your best while traveling.
FOOT NOTES
Check out our picks of the best new shoes, from indoor fitness to outdoor cross training, trail running, hiking and backpacking.
Mind / Body Health:
IN SHAPE
What's new, what's hot in health and fitness: can you really glide your way to fitness? ... turn your home into a weekend spa ... self esteem and your life span.
INNER SHAPE
A glimpse at the 12 step 'recovery' phenomenon.
WEIGHT LOSS Q&A
Answers to your most pressing weight loss questions: how fast should you lose weight? ... why water is important.
SUCCESS STORIES
Learn how Alison Beth Tallone, Mary Voorhees and Teri Lind got fit for life.
THROUGH THE EYE OF THE CAMERA
How a unique photography project changed the way three women feel about and see their bodies.
Sports & Adventure:
ESCAPES
Find out what happens when the discipline of yoga meets the challenge of rock climbing.
REVENGE OF THE FAT BOYS
Skiers can heave a sigh of relief. With the new parabolic skis, swooshing down the slopes is easier than ever.
In Every Issue:
From the Publishers: By Joe and Betty Weider
Advisory Board
Contributors
Shapescene
Hot Lines: From our readers
Buyer's Guide: For retail information
Just Out: It's up and coming and you heard it here first