---
Shape Magazine

For more information, call (800) 998-0731
---
October 1997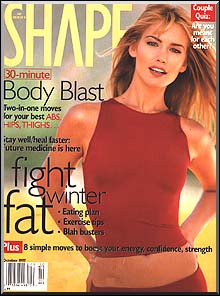 Shape Magazine is geared for women who take care of themselves through fitness, aerobics, nutrition, etc. The editorial advisory board includes 25 of the most well-respected medical and health care professionals in the country. The model on the cover is Valeria Mazza.
---
October 1997 - Table of Contents
---
Exercise:
Do It Right: Relieve muscle soreness and help prevent injuries with this thigh soothing stretch.
Fitness Frontline: Working out while very stressed may do more hard than good.
Rut Buster: Discover how yoga can help you build strength.
One on One: Build strong shoulders for a better bod.
Fast Body Shapers: Got 30 minutes? Here are some two in one exercises to tone you from head to toe in record time.
Winter Wake Up Call: Nip winter weight gain in the bud with smart strategies for diet, exercise, health and happiness.
Power Poses: Eight simple moves to boost energy, confidence and strength.
Diet & Nutrition:
Shopping Smart: Say cheese: The best of the low and nonfat varieties.
Recipe Makeover: Hearty Halloween stew.
Forever Greens: Chard, collards, mustards, spinach, kale - check out this year's delicious, nutritious vegetables.
Style:
Beauty in Action: Wake up to a better complexion.
Techtrek: Sleek, fun and functional new hiking threads.
Mind / Body / Health:
In Shape: What's new, what's hot in health and fitness: dealing with body hang ups... metabolism boosting gene?... seaside spa roundup...
Inner Shape: The shaman's cure: How modern day healers are using ancient tricks.
Health: The breast cancer estrogen link.
Weight Loss Q&A: Answers to your most pressing questions: calorie counters on cardio machines... low-fat vs. reduced fat vs. lite...
Success Stories: Robyn McBride, Amy Daunce and Kathy Driskell show you their way.
You're in Love (but will it last?) Take this quiz and put your relationship to the test.
The Best Medicine: The future of medical care combines mainstream and alternative therapies with self care skills. Is your doctor giving you what you need?
Sports & Adventure:
Escapes: Bond with nature at Salish Lodge & Spa
Nature's Jungle Gym: Bouldering combines the fun of the playground with the challenge of the rocks.
In Every Issue:
From the Publishers: By Joe and Betty Weider
Advisory Board
Contributors
Shapescene
Hot Lines: From our readers
Buyer's Guide: For retail information
Just Out: It's up and coming and you heard it here first
---