---
Shape Magazine

For more information, call (800) 998-0731
---
September 1997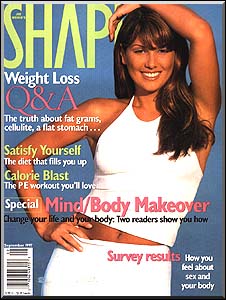 Shape Magazine is geared for women who take care of themselves through fitness, aerobics, nutrition, etc. The editorial advisory board includes 25 of the most well-respected medical and health care professionals in the country. The model on the cover is Daisy Fuentes.
---
September 1997 - Table of Contents
---
Exercise:
Fitness Trends: Beyond your basic step class: How we're spinning, hiking, dancing, and dunking for our bodies and spirits.
Do It Right: The rear leg lift: One simple move to build strength and enhance posture.
Rut Buster: En garde: Want a better bottom half? Get into fencing.
One on One: Streamline those legs.
Psy Ed Flashback: Back then, you either loved or dreaded it. Today, PE is a fun, supercharged workout.
Breathe & Sculpt: An energizing workout than tones the body and clears the mind.
Style:
Beauty in Action: Everything you need to create a flawless face in five minutes.
Gear Trends: Outfitting us: From ski boots to backpacks to basketballs, stuff that;s designed specifically for women.
On the Move: Sleek and stretchy, the hottest new streetwear looks are ready for action.
Diet & Nutrition:
How heathy is your diet? Variety is the spice of life. It also may be the secret to good health. Take this quiz to find out what you might be missing.
Recipe Makeover: Savory wild mushroom risotto.
Shopping Smart: The best in reduced fat peanut butter and low sugar jelly.
High Satiety: Diets that leave you ravenous just don't work. Here is an eating plan packed with deliciously filling foods.
Sports & Adventure:
Roughing It: At a wilderness lodge, you can get a civilized taste of the wild and a fitness boost to boot.
Mind / Body / Health:
In Shape: What new, what's hot in health and fitness: building a better body image... why wives complain more than husbands... downhill battles... socks education... TV makes you fat... and more...
Health: When it comes to taking your medicine, doctors are starting to listen to your biological clock.
Inner Shape: Getting over a lost love.
Success Stories: Fit for life: Patricia Huffman, Pamela Logan and Janice Fritz Snyder.
A Different kind of Makeover: Two readers take on physical and mental challenges to discover the secret to a healthy self image and a better life. Take our quizzes to learn how you can do the same.
Weight Loss Q&A Special: Thighs & Size: The answers to your most pressing weight loss questions: toning your legs, getting a flat stomach, attacking cellulite and more...
Survey Says: Our Sex and Body Image poll revealed some striking truths: How you feel about your body does affect your sex life.
In Every Issue:
From the Publishers: By Joe and Betty Weider
Advisory Board
Contributors
Shapescene
Hot Lines: From our readers
Buyer's Guide: For retail information
Just Out: It's up and coming and you heard it here first
---