---
Shape Magazine

For more information, call (800) 998-0731
---
August 1997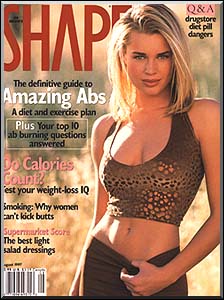 Shape Magazine is geared for women who take care of themselves through fitness, aerobics, nutrition, etc. The editorial advisory board includes 25 of the most well-respected medical and health care professionals in the country. The model on the cover is Rebecca Romijn.
---
August 1997 - Table of Contents
---
Exercise:
One on One: Best chest exercises.
Do It Right: Why you need strong shins - and how to get them.
Rut Buster: Rowing crew: It's a boatload of fun.
Amazing Abs: A comprehensive diet and exercise plan... plus answers to the top 10 questions about abs.
Mind & Muscle: A strength training workout to tone body and soul.
Diet & Nutrition:
Recipe Makeover: Light and easy Apricot Chicken Rice Salad.
Shopping Smart: Scoring the latest crop of low fat salad dressings.
Revenge of the Calorie: Just do the math: The latest advice for weight loss that works.
County Fare: All the yummy, festive, summer inspired foods of a county fair - without all the fat.
Mind / Body Health:
In Shape: What's new, what's hot in health and fitness; who's privy to your medical records? ... great stretches for frequent flyers ... the UTI report ...
Inner Shape: The power of forgiveness.
Weight Loss Q&A: Answers to your most pressing weight loss questions: over the counter pills ... the calories in produce ... walking with weights ...
Success Stories: How readers JulieRae MacLoad, Alex Andria Kung, and Aleta Olsson worked it out.
Style:
Beauty in Action: Is your cleansing routine a washout? Here's how to clean up your act.
Tri Chic: Serious clothes for iron women.
Sports & Adventure:
Time Out: A women's cycling team takes off on a tour de force.
Water Walking: What makes a summertime hike truly sublime? Choose one that rewards your efforts with an invigorating surprise: waterfalls, swimming holes and other cool endings.
In Every Issue:
From the Publishers: By Joe and Betty Weider
Advisory Board
Contributors
Shapescene
Hot Lines: From our readers
Buyer's Guide: For retail information
Just Out: It's up and coming and you heard it here first
---