---
Shape Magazine

For more information, call (800) 998-0731
---
June 1997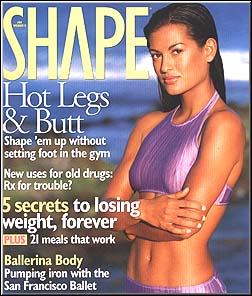 Shape Magazine is geared for women who take care of themselves through fitness, aerobics, nutrition, etc. The editorial advisory board includes 25 of the most well-respected medical and health care professionals in the country. The model on the cover is Daniela Pestova.
---
June 1997 - Table of Contents
---
Exercise:
One on One: Lat blasters
Do It Right: Attack your abs with the pelvic lift and curl.
Power Tool: Sculpt and tone awesome summer legs and butt with a brand new, at home ban routine.
Pump and Pirouette: No tutu required to look like a dancer. Weight train (yes!) with the San Francisco Ballet.
Diet & Nutrition:
Recipe Makeover: A low fat Black Bean Confetti Salad that's reason to celebrate.
Shopping Smart: The best of reduced fat hot dogs.
Mastering Weight Loss: Start your summer with a master plan. The real pros at weight management - people who have lost at least 20 pounds and kept them off - share their secrets to losing weight for good.
Skinny Dipping: Plunge into delicious, low fat dips.
Sports & Adventure:
Escapes: My old man and the sea; a Father's Day story
Paddle Happy: Tip a canoe ... and kayak too. Get into the latest, greatest water sports.
Mind / Body Health:
In Shape: What's new, what's hot in health and fitness; why American's are overweight ... altitude training... the new "g" spots
Health: Many drugs are approved for one use, but prescribed for another. Are doctors asking for trouble?
Weight Loss Q&A: The skinny on why willpower backfires... liquid diets and losing weight...
Success Stories: Finding a happy medium: Allison Brown, LeeAnn Dobro, Mariko Reems
Love in the time of AIDS: One woman's story of life, relationships and looking ahead - the new reality for people with HIV.
Style:
Beauty in Action: Do you break out when you're stressed? What to do when skin gets emotional.
Gear Update: Fins, goggles and other goodies to add splash to your water workout.
Summer Proof your Body: Warm weather Rx for your hair and skin.
Tennis Whites: The little white dress - and skirt and shorts - are back in action.
In Every Issue:
From the Publishers: By Joe and Betty Weider
Advisory Board
Contributors
Shapescene
Hot Lines: From our readers
Buyer's Guide: For retail information
Just Out: It's up and coming and you heard it here first
---