---
Shape Magazine

For more information, call (800) 998-0731
---
May 1997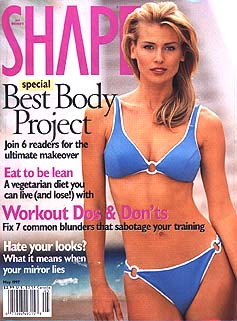 Shape Magazine is geared for women who take care of themselves through fitness, aerobics, nutrition, etc. The editorial advisory board includes 25 of the most well-respected medical and health care professionals in the country. The model on the cover is Daniela Pestova.
---
May 1997 - Table of Contents
---
Exercise:
Do It Right: A simple, effective move for strong arms and shoulders.
Fitness Frontline: A big reason why exercise boosts health is its effect on your middle. The facts about exercise and abdominal fat.
Rut Buster: How to fix seven common training mistakes.
One on One: Serious glutes training.
The new (Improved) Stretch: The latest, greatest way to loosen up those muscles.

Special Feature: Sister Act: Are you getting primed for summer? We found a system that really works: The buddy system. We matched "Big" and "Little" sisters to see just how far it could take you. We've also got a supereffective weight training workout to get you started. Plus: how to find a nutritionist, a trainer and your own support system. It's a get ready for summer blitz!
Diet & Nutrition:
Recipe Makeover: Peanut butter fudge pie. Need we say more?
Shopping Smart: Say goodbye to low cal snacks that taste like cardboard. Rice cakes now come in tasty flavors.
The Part Time Vegetarian: The new dietary hybrid. Here's how to incorporate the best of both worlds.
Simply Elegant: Make an exquisite low fat meal using three main ingredients.
Mind / Body Health:
In Shape: What's new, what's hot in health and fitness: the virtues of shrimp... online magazine... men, women and pain...
Health: How to keep your teeth and gums healthy.
Inner Shape: The health and healing power of rhythm.
Time Out: Into the unknown: What really goes on in the men's and women's locker rooms.
Weight Loss Q&A: Answers to your most pressing weight loss questions: the pill and weight gain... shrinking breasts... workouts for fat loss...
Success Stories: Getting healthy: Jessica Harrell, Patricia A. French and Heidi Rusthoven
When the Mirror Lies: Uncovering the secrets of Body Dysmorphic Disorder.
Style:
Beauty in Action: Can your computer make you more beautiful? A look at the new services available online.
Gear Update: The best bicycle gear for easy riding.
Tan Lines:Sleek cuts and natural colors set the tone for summer swimwear.
Sports & Adventure:
Escapes: A long overdue connection with Mom in the backwoods of Montana.
Summit Survival 101: A novice mountaineer chronicles her crash course and ascent of Mount Rainer.
In Every Issue:
From the Publishers: By Joe and Betty Weider
Advisory Board
Contributors
Shapescene
Hot Lines: From our readers
Buyer's Guide: For retail information
Just Out: It's up and coming and you heard it here first
---