---
Shape Magazine

For more information, call (800) 998-0731
---
April 1997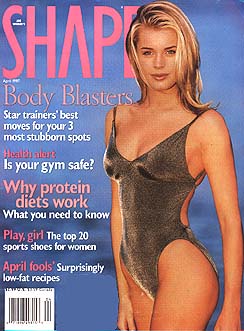 Shape Magazine is geared for women who take care of themselves through fitness, aerobics, nutrition, etc. The editorial advisory board includes 25 of the most well-respected medical and health care professionals in the country. The model on the cover is Rebecca Romjin.
---
April 1997 - Table of Contents
---
Exercise:
Do It Right! How to safely conquer a pain in the neck.
One on One: A biceps blast.
Rut Buster: Move over, boys: Women are taking up some new sports!
Your Best Body: Exclusive: Three of the hottest star trainers in the business put together a time efficient, targeted workout just for you.
Better your Sweat: A special mind centering routine to improve the way you move.
Diet & Nutrition:
Recipe Makeover: Oy! Low fat matzo ball soup.
Shopping Smart: The winners in the mustard and mayo wars!
Protein Propaganda: You've heard the hype about high protein diets. Now read the facts.
April Fools: It's no joke: Some high fat favorites remade - '90s style.
Mind / Body Health:
In Shape: What's new, what's hot in health and fitness: birth control and breast cancer... Earth Day 1997... R.O.S.E winners....
Health: Solving the pelvic pain puzzle.
Inner Shape: You can bounce back from bad times. Here's how to become more resilient.
Time Out: A new take on the sack race.
Weight Loss Q&A: Answers to your questions about chromium picolinate, trampolines, yogurt, isometric exercise, calories, bloating and sagging skin..
Success Stories: Making changes - for life. Debra Tatu, Kathryn Patterson, and Mary A. Jenkins.
Is it Safe? How healthy is your health club?
When your job fails you: Find out what you can do to keep your sanity (and your health) at work.
Style:
Beauty in Action: Alternative skin care solutions.
Gear Update: The best home stair climbing machines.
Equal Footing: Our picks of the best sport-specific shoes for spring.
Sports & Adventure:
Escapes: A canyon trek with some fuzzy friends.
Women Drivers: Learning to play a man's game: Golf clinics for women.
In Every Issue:
From the Publishers: By Joe and Betty Weider
Advisory Board
Contributors
Shapescene
Hot Lines: From our readers
Buyer's Guide: For retail information
Just Out: It's up and coming and you heard it here first
---