---
Shape Magazine

For more information, call (800) 998-0731
---
March 1997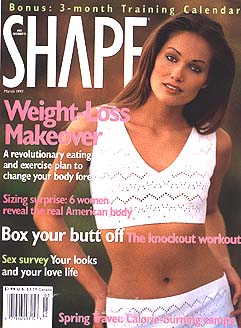 Shape Magazine is geared for women who take care of themselves through fitness, aerobics, nutrition, etc. The editorial advisory board includes 28 of the most well-respected medical and health care professionals in the country. The model on the cover is Rosemarie Wetzel.
---
March 1997 - Table of Contents
---
Exercise:
Do It Right! Improve your posture and define those shoulders with the seated row!
One on One: Get tight, toned abs with a top trainer.
Rut Buster: Training your weaker side.
Special Section: A New Definition: A revolutionary 3 month weight loss and strength training plan to change your body - and the way you think about dieting. (Plus, our bonus calendar).
The One-Two Punch: Combine step moves and boxing for a total body routine.
Diet & Nutrition:
Nutrition: Eating for a (high) altitude adjustment.
Recipe Makeover: Saucy grilled chicken.
Shopping Smart: Low Fat Frozen pizzas.
Mushroom Magic: These earthly delights are vitamin and flavor rich; here's how to use them.
Mind / Body Health:
In Shape: What's new, what's hot in health and fitness: train your brain... stuff we love...
Health: Is laser eye surgery for you?
Inner Shape: Ecopsychology: Getting in touch with nature... and yourself.
Time Out: Club crawling through the after hours gym scene.
Weight Loss Q&A: Answers to your most pressing weight loss questions.
Success Stories: Betty Cruz, Gina Marie Turcketta and Lisa C. DittmarLabonte share their tales of triumph.
What's in a Size? Plenty, if you are a women. A history of the numbers.
Photo Essay: 140s and Fab: Six women who exemplify the average American body.
Dieting on the Dark Side: When weight watching becomes bulimia.
Sex Survey: Tell us: How do you feel about your body in bed?
Style:
Beauty in Action: Simple solutions for scary hair scenarios.
Palm Springs Weekend: Feeling groovy: Happening spring sunwear.
Sports & Adventure:
Escapes: It's playtime at camp.
Off the Beach: Use your vacation to get a burn - and we don't mean a sunburn. Here are a bundle of calorie clobbering options.
In Every Issue
From the Publishers: By Joe and Betty Weider
Advisory Board
Contributors
Shapescene
Hot Lines: From our readers
Buyer's Guide: For retail information
Just Out: It's up and coming and you heard it here first
---