---
Shape Magazine

For more information, call (800) 998-0731
---
February 1997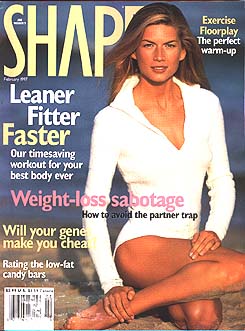 Shape Magazine is geared for women who take care of themselves through fitness, aerobics, nutrition, etc. The editorial advisory board includes 28 of the most well-respected medical and health care professionals in the country.
---
February 1997 - Table of Contents
---
Exercise:
Do it right! A great tush toner.
Rut Buster: Tricks to make your old workout feel brand new.
Fitness Front Line: Exercisers sleep better. Here is the evidence.
One on One: Simple, effective moves for your triceps.
The plateau Blaster: Want to lift more weight? Do more reps? We've got a serious technique to boost your workout performance to the next level.
Floorplay: A creative way to warm up to exercise.
Diet & Nutrition:
Recipe Makeover: A sweet Valentine treat.
Shopping Smart: Rating low fat candy bars.
The Team Up Diet: Don't let your honey pull you off the healthy eating bandwagon. Our plan (complete with recipes) will help the two of you shape up... together.
Mind / Body Health:
In Shape: What's new, what's hot in health and fitness: Who gets mammograms? ... sexy birth control... poetic therapy...
Health: That burning sensation in your chest could be more than last night's spicy dinner.
Inner Shape: Why pets are good for your health.
Weight Loss Q&A: Answers to your most pressing weight loss questions: laxative abuse... the best cooking oil...
Success Stories: Christina Jackson, Karen Schrier Paris, Lesa Cline
Agonies and the Ecstasies: Sometimes it's good for you to feel bad. Here's why.
Love Notions: What really turns you on? We studied the research, then conducted our own (thoroughly unscientific) experiments.
Your Cheating Genes: Is he destined to be unfaithful? Are you? Learn how chemistry can affect your relationships.
Sports, Adventure & Style:
Beauty in Action: Tips for kissable lips.
Gear Update: The best of the new abdominal trainers.
Back to the Future: Retro looks and some designer names zap today's bodywear.
Cheap Thrills: Great winter getaways that won't break your budget.
In Every Issue
From the Publishers: By Joe and Betty Weider
Advisory Board
Contributors
Shapescene
Hot Lines: From our readers
Buyer's Guide: For retail information
Just Out: It's up and coming and you heard it here first
---