---
Shape Magazine

For more information, call (800) 998-0731
---
January 1997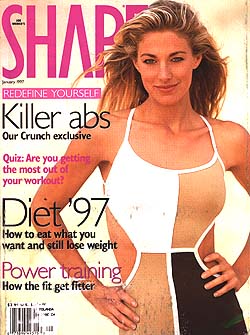 Shape Magazine is geared for women who take care of themselves through fitness, aerobics, nutrition, etc. The editorial advisory board includes 28 of the most well-respected medical and health care professionals in the country.
---
January 1997 Table of Contents
---
Special Section: Redefine yourself '97
Fitness: How fat can it take you? Take this quiz to learn how your workouts can make your life better.
You've got the Powder: This innovative training program can give you the competitive edge you've been looking for.
No Counting Allowed: Throw out the food scale! Finally, a no numbers way to lose weight, cut fat and still eat your favorite foods.
Exercise
Do it right! Here's a cobra that's good for your health.
Rut Buster: Running cold: a winter workout adventure
One on One: Sleek, shapely quads are within your grasp.
Exclusive: Get Crunched: A serious, targeted workout for your arms and abs - courtesy of the nation's hottest health club and television exercise show.
Mind / Body Health
In Shape: What's new, what's hot in health and fitness: our favorite sports... alternative health insurance... fish oil and cramps...
Health: Physicians who dare to cure without surgery or drugs.
Inner Shape: How to go with the flow.
Weight Loss Q&A: Answers to your most pressing weight loss questions: the newest 'miracle diet'... weight loss and health... what's a set point?
Success Stories: Read about Linda Allen, Jennifer Hardin, Grisel Szpicek.
Cold and Flus 101: You're sick, but do you have the flu? A cold? Here's how to tell the difference and, more important, how to get well.
Diet & Nutrition
Recipe Makeover: A healthy hero
Make Mine to Go: Sandwiches don't have to be boring. Some new twists on the ultimate convenience food.
Sports, Adventure & Style
An Ocean View: A snorkeling adventure with Jean-Michael Cousteau in the Bahama Out Islands.
Beauty in Action: Start the new year with a look at beauty's past (and a glimpse at its future).
Catching Air: Forget wearing his snowboarding clothes: These fun new fashions are all woman - strong and pretty.
In Every Issue
From the Publishers: By Joe and Betty Weider
Advisory Board
Contributors
Shapescene
Hot Lines: From our readers
Buyer's Guide: For retail information
Just Out: It's up and coming and you heard it here first
---