---
Shape Magazine

For more information, call (800) 998-0731
---
December 1996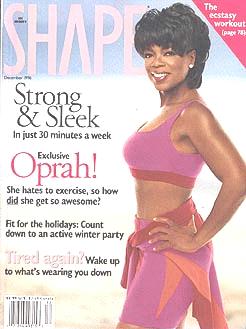 Oprah Winfrey graces the cover on the December issue, and in a featured article, she talks about her triumphs and hard times over the battle of being in shape. Other interesting articles include a theory of 'How to wake if if you are feeling tired all the time', and '30 minutes a week to be sleek and strong'.
Shape Magazine is geared for women who take care of themselves through fitness, aerobics, nutrition, etc. The editorial advisory board includes 28 of the most well-respected medical and health care professionals in the country.
---
December 1996 Table of Contents
---
Exercise
Do It Right: A great way to add strength and shape your hamstrings.
One on One: Serious targeted moves to build strong, beautiful biceps.
Rut Buster: Here's our newest way to help you wake up your workout: A new column. This month, get into the swing (dancing) and put a twist in your exercise routine.
Work It In: Yes, Virginia, you can celebrate the holidays full tilt and maintain your strength. Try our once a week weight routine to find out how.
Moving Into Bliss: Still your mind, revive your body with a workout that takes you to new levels.
Diet & Nutrition
Nutrition: Shape's pick of the year's best cookbooks.
Recipe Makeover: Sugar cookie delights.
Tray Chic: Taste tempting party starters to get the season off and rolling.
Holiday on Ice: A Skating party! Everything you need to plan a terrific winter get together. .
Style
Beauty in Action: Give yourself (and your credit cards) a break this season: Check out the free beauty treatment waiting for you at the cosmetics counter.
Gear Update: Home gyms for every budget.
Fitness Giving: The hottest mind/body gifts for everyone on your list.
Perfect Form: Women's basketball star Lisa Leslie showcases the most fashionable, body conscious party clothes of the season, proving she is a force to reckon with on and off the court.
Mind/Body Health
In Shape: What's new, what's hot in health and fitness: safe winter workouts... PC coffee... scoping the Big Easy...
Inner Shape: Why holiday festivities are good for your health.
Success Stories: Read about Heather Banfield, Cheryl Casone and Julie Blevins Whitt
The Ultimate Success Story: Television's most powerful woman talks candidly about her very public struggles and triumphs.
Sick and Very Tired: Exhausted all the time? Some common (and not so common) reasons why, and what you can do about it.
A Circle of Friends: Loneliness isn't just a bummer, it can be bad for your health. Practical solutions for making people connections.
In Every Issue
From the Publishers: By Joe and Betty Weider
Advisory Board
Contributors
Shapescene
Hot Lines: From our readers
Buyer's Guide: For retail information
Just Out: It's up and coming and you heard it here first
---