---
Shape Magazine

For more information, call (800) 998-0731
---
November 1996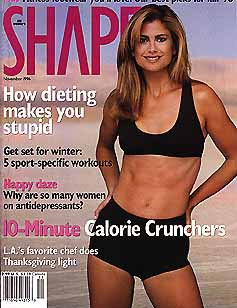 Kathy Ireland struts her stuff on the November issue of Shape Magazine. Another interesting articles include How Dieting makes you Stupid, and 10 minute Calorie Crunchers. Shape recently just celebrated its 15th anniversary.
Shape Magazine is geared for women who take care of themselves through fitness, aerobics, nutrition, etc. The editorial advisory board includes 28 of the most well-respected medical and health care professionals in the country.
---
November 1996 Table of Contents
---
Exercise
Do It Right: Tone your thighs with one simple exercise.
Fitness Frontline: Can weight training make you faster?
One on One: Improve your posture and sculpt a gorgeous back with three great moves.
Jiffy Fit: Got 10 minutes? We've got 10 calorie burning workouts to help you get through the holiday crunch.
Snowbound: Five ways to get into top shape for all your favorite winter sports.
Diet & Nutrition
Recipe Makeover: A new way to use those cranberries.
Shopping Smart: Calling all cookie monsters.
Weight Loss Q&A: Weight loss plateaus, liposuction, cardio machines and calories.
Diets are for Dummies: Are you starving your brain? If you're dieting, you just might be.
A Chef's Holiday: L.A. Joachim Splichal does a low fat take on Thanksgiving. .
Style
Beauty in Action: The lowdown on that old beauty staple: the mask.
On your feet: Our picks of the best shoes for all your indoor and outdoor workouts.
Out in the Open: Don't hide your long johns - flaunt 'em!
Mind/Body Health
In Shape: What's new, what's hot in health and fitness: high tech breast exams... Rx for frequent flyers... fitness by the Bay...
Inner Shape: Are you a believer? How faith may help you heal.
Health: Millions of women are plagued by interstitial cystitis. Here's what you can do if you're one of them.
Success Stories: Read about Nicole Swift, Michelle Kyniston and Chichette Gourdet.
Message in the Bottle: Why are so many women taking antidepressants?
Sports & Adventure
Escapes: Canyon crawling in Arizona.
Playing it Cool. A user's guide to the hottest winter sports (and great places to try them).
In Every Issue
From the Publishers: By Joe and Betty Weider
Advisory Board
Contributors
Shapescene
Hot Lines: From our readers
Buyer's Guide: For retail information
Just Out: It's up and coming and you heard it here first
---