---
Shape Magazine

For more information, call (800) 998-0731
---
October 1996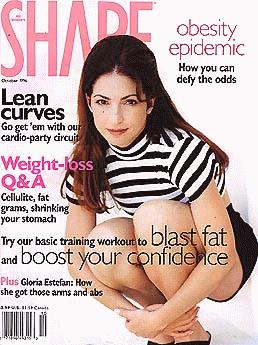 Shape Magazine is geared for women who take care of themselves through fitness, aerobics, nutrition, etc. The editorial advisory board includes 28 of the most well-respected medical and health care professionals in the country.
---
October 1996 Table of Contents
---
Exercise
Do It Right: Upper body stretch.
One on One: Three moves to get your glutes in gear
Basic Training: The U.S. Army created a workout to see how strong women can get. Come on, be all you can be.
Ready for action: Curves ahead: Have a party with the cardio circuit that hot 'Baywatch' start Donna D'eErrico into lifesaving shape.
Diet & Nutrition
Recipe Makeover: Low fat chocolate cake? You bet.
Shopping Smart: Head for the freezer for a great lunch.
Weight Loss Q&A: The truth about calories vs. fat, cellulite and more.
Diet Fix: Eat your way healthy: Here are the foods you need to help keep yourself well.
Some Like It Hot: Real chili recipes, y'all, from the hottest chili cooking competitions in Texas.
Style
Beauty in Action: Help for oil slick complexions.
Gear Update: Super home treadmills
Mod Bod: The funkiest workout clothes in town.
Mind/Body Health
In Shape: What's new, what's hot in health and fitness: workout video reviews... women and food cravings... better P.E....
Health: How new discoveries about breast cancer genes can help (or hurt) women.
Inner Shape: Head Games: Psychology goes on-line.
Success Stories: Read about Kimberly Howard, Catherine DiSanto and Julie Westbrook.
Cover Story: Gloria's Destiny: Megastar Gloria Estefan talks about overcoming life's challenges and moving forward.
Herbs: Tonic or Toxic: Here's what you need to know.
The Obesity Epidemic: Waistband getting a bit snug? Find out why Americans are fatter than ever - and what can be done about it.
Sports & Adventure
A Ride into Autumn: A bike with a view: How to create your own cycling tour.
In Every Issue
From the Publishers: By Joe and Betty Weider
Advisory Board
Shapescene
Hot Lines: From our readers
Buyer's Guide: For retail information
Just Out: It's up and coming and you heard it here first
---