---
Shape Magazine

For more information, call (800) 998-0731
---
September 1996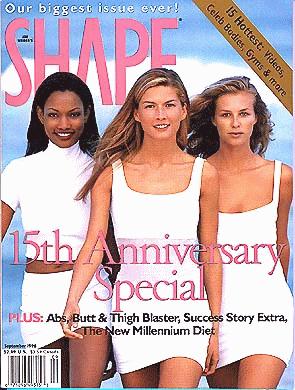 Shape is celebrating it's 15th year with this issue, it's biggest issue ever. In this issue, they look back over the years at the best and worst of Shape, fitness and other issues, and of course, the regular sections. On the cover is Garcelle Beauvais, Basia, and Gina Clarke.
Shape Magazine is geared for women who take care of themselves through fitness, aerobics, nutrition, etc. The editorial advisory board includes 28 of the most well-respected medical and health care professionals in the country.
---
September 1996 Table of Contents
---
Special Section: Shape's 15th Anniversary
Movers and Shakers: The Shape staff gives you 15 easy ways to get moving.
Hot Workout Wear: The 15 newest fabrics and styles for your workouts.
The best of what we know: At your serve, 15 years' worth of Shape knowledge.
Exercise
One one One: Thigh high: Terrific moves for your legs.
Do It Right: A great shoulder shaper.
Fitness Frontline: How important is weight to your fitness?
Hard Targets: Zero in on your most asked about parts.
Bring it on Home: By special request, here's a no equipment necessary workout you can do anywhere.
Mind / Body Health
In Shape: What's New? What hot in health and fitness? Jane Fonda's life time achievement... what women look for in men... Shape bloopers...
Inner Shape: The power of faith.
Health: Getting tested for HIV
Time Out: A potato chip addict takes the olestra taste test.
Outta Sight: Your inner Fitness Log: There's more to fitness than numbers on a scale. Here's how to really track your progress.
Making Changes. Can you change your life by going to a spa?
Hold Still: Quality vs. quantity: A new way to work out...
Dealing with Relapse: Being a Shape Success Story is great, but what happens after their stories appear in our magazine?
Diet & Nutrition
Weight Loss Q&A: The truth about olestra, mahuang and more.
Nutrition: Why you've got to get some grains into your life.
Shopping Smart: Lunch box favorites - snack pack puddings.
Recipe Makeover: Our anniversary special: an Italian feast.
The New Millennium Diet: Complicated eating plans are out. This is the
Sports & Adventure
Escapes: Running away from it all.
Call of the Wild: Get outside and find yourself an adventure.
Style
Beauty in Action: From '80s overdose to '90s basics. The future of workout beauty, and a look back at where we've been.
Gear Update: The best home workout equipment.
Be a Sport: The hottest clothes for the court, field, track, bike bath...
In Every Issue
From the Publishers: By Joe and Betty Weider
Contributors
Advisory Board
Shapescene
Hot Lines: From our readers
Buyer's Guide: For retail information
Just Out: It's up and coming and you heard it here first
---