---
Shape Magazine

For more information, call (800) 998-0731
---
August 1996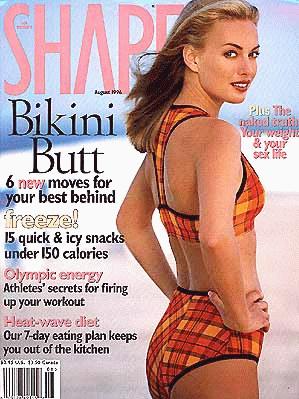 Shape Magazine is geared for women who take care of themselves through fitness, aerobics, nutrition, etc. The editorial advisory board includes 28 of the most well-respected medical and health care professionals in the country.
---
August 1996 Table of Contents
---
Exercise
Training Edge: Give your workout a gravity boost.
One on One: Three great back moves.
Do It Right: Double-duty stretching.
On the Flip Side: An innovative workout to get your rear in gear.
Mind / Body Health
In Shape: What's new, what's hot in health and fitness... reduced fat candy bars... breast implant update... fitness Hamptons style...
Success Stories: Read about JJuana Rodriquez, Alisa Goodale and Cindy Gilburne
The Naked Truth: If you are so consumed by a negative body image that it interferes with your sex life, you're not alone.
Be a Player: On the tail of the Olympics: Start up your own friendly competition and watch your performance soar.
Doctor, Doctor: What can alternative medicine offer you? Join us on a journey to find out.
Diet & Nutrition
Recipe Makeover: Going bananas.
Shopping Smart: The best of the bottled teas.
If you Can't Stand the Heat. No cooking, no fussing - just great, healthful meals.
Freeze! Five luscious, low calorie desserts that'll cool you off in a flash.
Corn! Straight from the Kansas cornfields: Great recipes and tricks for preparing summer's favorite vegetable.
Sports & Adventure
Four Girls, Two Boats and a Lake: A real life houseboating adventure.
Style
Beauty in Action: Cool summer survival tips from some of the country's hottest spas.
Great Gear: Be a kid again with the newest toys for summer.
Night Visions: Cool looks for hot summer nights: The best new reflective wear for active nocturnal creatures.
In Every Issue
From the Publishers: By Joe and Betty Weider
Contributors
Advisory Board
Shapescene
Hot Lines: From our readers
Buyer's Guide: For retail information
Just Out: It's up and coming and you heard it here first
---