---
Shape Magazine

For more information, call (800) 998-0731
---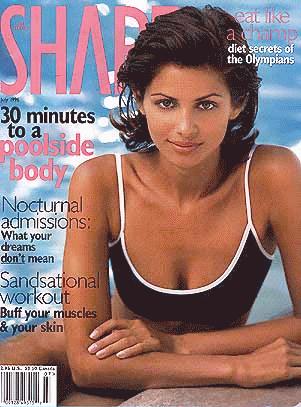 The July issue features articles like a cool pool workout, ten steamy beauty finds, learn how to throw like a pro, and how to strengthen your lower back. Also, secrets on how to eat like a champ, and what your dreams can and cannot tell you. The model on the cover is Gayle Gurcheik.
---
Shape Magazine is geared for women who take care of themselves through fitness, aerobics, nutrition, etc. The editorial advisory board includes 28 of the most well-respected medical and health care professionals in the country.




---
July 1996 Table of Contents
---
Exercise
Training Edge: Learn to throw like a Pro
One on One: Strengthen your lower back (and help prevent pain) with three targeted moves.
Do It Right: Take on your triceps.
Against the Grain: Sun, surf, sand... Catch a great workout (and beauty treatment to boot), while taking in the sea breeze.
In the Swim: No, swimming doesn't have to be boring. Here's a cool pool workout guaranteed to make you lap happy.
Pull a Fast One: A 30 minutes (air conditioned) workout that'll get you in and out of the gym in record time.
Diet & Nutrition
Recipe Makeover: Veggie grill.
Eat Like A Champ: Secrets from elite athletes (and their nutritionists) about how to eat like a champ.
Soul Food: Whip up some real down home Southern - without the fat.
Sports & Adventure
The Wild Side of Summer: Drive-In Hiking: Five of the most beautiful spots in the country where you can car camp.
Mind / Body Health
In Shape: What's new, what's hot in health and fitness... high tech toothbrushes... countdown to Atlanta... Demi Moore and body image...
Health: If you hike, play or live in the woods, don't miss this: The latest's on Lyme disease.
Success Stories: Read about Jenny Kennedy, Cami Krantz and Kell Price-Rabah
Time Out: It's the dog in you.
In Your Dreams: Everyone does it, usually in bed but not always. Of course, we're talking about dreaming. What your dreams can (and cannot) tell you.
Fashion & Beauty
Beauty in Action: Ten steamy beauty finds.
Great Gear: Hot ways to protect yourself from the sun.
Girls Rule: They're young, they're hip and they've definitely got the moves. Meet the Gidgets of the 90's as they show off the latest beach fashions.
In Every Issue
From the Publishers: By Joe and Betty Weider
Contributors
Advisory Board
Shapescene
Hot Lines: From our readers
Buyer's Guide: For retail information
Just Out: It's up and coming and you heard it here first
---