---
Shape Magazine

For more information, call (800) 340-8953
---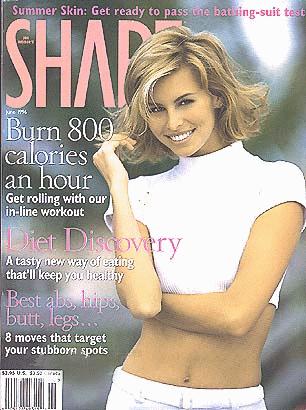 June 1996 Shape Magazine features Niki Taylor on the cover. With sections like Exercise, Diet & Nutrition, Sports & Adventures, Mind, Body & Health, and Fashion & Beauty, Shape has everything for the women who is into fitness.
---
Shape Magazine is geared for women who take care of themselves through fitness, aerobics, nutrition, etc. The editorial advisory board includes 28 of the most well-respected medical and health care professionals in the country.





---
June 1996 Table of Contents
---
Exercise
Do It Right: On bended knee; strengthening one of your most vulnerable joints.
One on One: Greg Niederlander, M.S., shows you three moves to sculpt your calves.
Training Edge: How to pick a personal trainer.
Divide & Conquer: Pick a part, any part, body part, that is, and work with it. The best moves for areas you most want to define.
Get in Line: Rock 'n' roll your way through a skating workout that can burn up to 800 calories an hour. All levels welcome.
Diet & Nutrition
Nutrition: Weighing the scales: The good and bad news about fish
Recipe Makeover: A tasty twist on chicken
Pyramid Power: New ideas from Asia on building a healthy diet
The Farmers' Market: Get it straight from the field. Learn how to whip up some great dishes with summer's freshest produce.
Sports & Adventures
Postcards from the Edge: A vacation is supposed to relieve stress, not create it. Here's how to plan a truly relaxing getaway... really.
Mind / Body Health
In Shape: What's new, what's hot in health and fitness... supermodel Niki Taylor... fertility flash... Olympic trivia quiz...
Health: Sex therapy in the '90s. No more toys and surrogates
Success Stories: Read about Lorie A. Achenbach, Margie Davis and Kerry Briggs.
Prayer and Penicillin: What's the link between spirituality and healing? Explore the new frontier of medicine.
Pain Killer: No doctors, no drugs, no hospitals. Here's a quick, easy technique you can use to relieve your sore muscles.
Fashion & Beauty
Beauty in Action: Trailside tactics for staying fresh and clean in the wilds
Great Gear: The best of the Super Show.
The Sum of your Parts: What's your favorite feature? Abs, back, hips? After you do the workout, we'll show you how to dress to highlight the best of your hard earned body.
7-Day Countdown to Summer Skin: A crash course to get your hide out of hibernation and ready for warm weather exposure.
---