---
Shape Magazine

For more information, call (800) 340-8953
---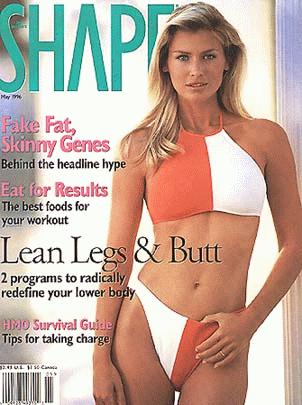 May 1996 Shape Magazine features Daniela Pestova on the cover. With sections like Exercise, Diet & Nutrition, Sports & Adventures, Mind, Body & Health, and Fashion & Beauty, Shape has everything for the women who is into fitness.
---
Shape Magazine is geared for women who take care of themselves through fitness, aerobics, nutrition, etc. The editorial advisory board includes 28 of the most well-respected medical and health care professionals in the country.





---
May 1996 Table of Contents
---
Exercise
One on One: Strong pecs can be yours in three moves.
Training Edge: Burn baby burn. Here's how to transform your aerobic workouts into serious calorie blasters.
Do It Right: One move for a strong back and better posture.
Hot Legs: This radical gym workout is designed to sculpt your thighs and tone your butt.
The First Step: Get up and running!
Diet & Nutrition
Shopping Smart: Rating the veggie burgers.
Recipe Makeover: Tasty poppy seed bread
Feed Your Face: Eat for your specific workout style. Try our strategies, meal plan and recipes
A Yen for Noodles: Quick recipes for some of the hottest imports from Japan.
Sports & Adventures
Down and Dirty Biking: Send your heart rate to incredible heights... hop on a mountain bike. Here's everything you need to know!
Mind / Body Health
In Shape: What's new, what's hot in health and fitness... countdown to Atlanta... Zen on a bike... too stressed to heal?
Health: Silicone implants: Can they make your baby sick?
Success Stories: Read how fitness changed the lives of Aerial Cross, Deborah Boe and Virginia Jones
Headlines on the Hot Seat: All the news that's fit to ... misinterpret. You can't believe everything you read, so we've untangled the latest nutrition headlines and put them in plain English.
Mass Medicine: Tired of clawing your way through endless paperwork and unreturned phone calls? Learn how to make your HMO really work for you.
Fashion & Beauty
Beauty in Action: The dope on soap. Plus, youth in a bottle. Here's whats up with the new beauty serums.
Shorelines: Hit the sand in style.
---