---
Shape Magazine

For more information, call (800) 998-0731
---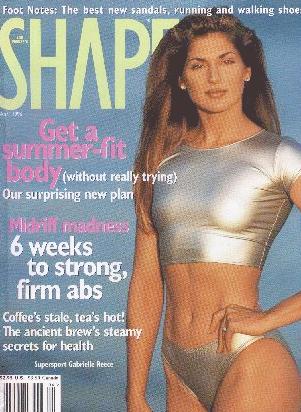 April 1996 Shape Magazine features Supermodel and Pro Beach Volleyball player Gabrielle Reece on the cover. Shape has articles on hiking in style, torso toning, a game plan to get you in shape in three months, special recipes, and much more.
---
Shape Magazine is geared for women who take care of themselves through fitness, aerobics, nutrition, etc. The editorial advisory board includes 28 of the most well-respected medical and health care professionals in the country.





---
Table of Contents - April 1996 issue
---
Exercise
One on One: Trainer Holly Konrady takes you through three moves for sculpted shoulders.
Do it Right: Here's how to really loosen up those tight hamstrings
In the Game: Our three month program will help you get a fit body and a new sport under your belt by beach time.
Abs a la Carte: Our six week workout menu for a better midriff.
Mind / Body Health
In Shape: What's new, what's hot in health and fitness new fake fat...
In Shape: Working out in San Diego...
In Shape: Late Break on Smoking and Weight...
Health: Melatonin Mania: Sorting through the hype
Success Stores: They did it their way: Debbie Taylor, Shirley Anne Parsons and Carmen C. Pena.
Japanese Tea Ceremony: An ancient ritual becomes the next trend as science uncovers the potential health benefits of drinking tea.
Years of Training Dangerously: Some young female athletes risk everything for the gold. Hear why they do it and what's being done to save them.
Diet & Nutrition
Recipe Makeover: Oatmeal Raisin Cookies to live for
Veg Out: You can't just pop your veggies in a pill. We'll tell you why and give you some mouth watering recipes.
Sports & Adventures
Reel Adventure: Take off on a women's only fly fishing trip to cast for some dreams... and a few fish.
Fashion & Beauty
Beauty in Action: Bored with the Usual? Try some exotic products.
Trailblazers: Trek into the woods in high style wit the latest hiking fashions.
Shoes required: Walk, run, kayak... check out the hottest new workout shoes for spring.
---