---
Shape Magazine

For more information, call (800) 998-0731
---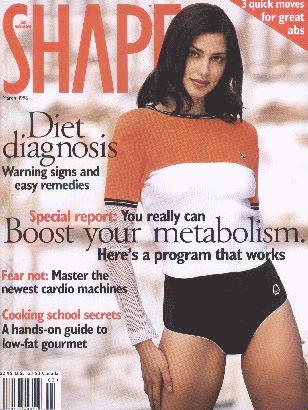 March 1996 Shape Magazine features an excellent article on Metabolism and how to boost it! Also, articles on MSG, warning sign of a bad diet, hot new cardio machines to hit the gym, and much more. Shape's slogan is Mind and Body Fitness for Women. Daria is the cover model.
---
Shape Magazine is geared for women who take care of themselves through fitness, aerobics, nutrition, etc. The editorial advisory board includes 28 of the most well-respected medical and health care professionals in the country.




---
Table of Contents - March 1996 issue
---
Exercise
Do It Right: Bone up on your shoulder training.
Training Edge: Tracking your target heart rate: with a little help from a machine.
One on One: Trainer Jon Giese shows you three super efficient abdominal moves.
Get Fired Up: Forget the hype. Here's our special report on the truth about metabolism and a workout to help boost yours.
Cardio Nation: Sick of stairclimbing? Check out the hottest new cardio machines to hit the gym. Find out what they do and how to use them.
Diet & Nutrition
Nutrition: M-S-G. These three letters have inspired fear and loathing in the heats of women (and men) for year. Find out the truth about this additive.
Recipe Makeover: Creamy chicken casserole.
Warning Sign of a Bad Diet: Is you hair dry? Nails brittle? Feeling groggy? Maybe it's your diet. Here's how to diagnose your diet and remedy some common nutritional deficiencies.
Shape goes to Cooking School: Take off with us to San Francisco and the famous Tante Marie's cooking school... and learn to prepare low fat culinary masterpieces like the pros.
Sports & Adventure
Great Gear: Stuff for safer in line skating
Mail Bonding: Fitness pen pals meet at a world class spa among the California redwoods.
Mind / Body Health
In Shape: What's new, what's hot in health & fitness: good news for early risers, high tech Pap tests, antibiotics warning.
Health: Asthma demystified
Success Stories: Three women celebrate their fitness triumphs
Panic Attack: The News on the most common mental disorder
Fashion & Beauty
Beauty in Action: Can facial exercises change the way you look?
Things We Love: Workout clothes that work: Top picks from athletes and Shape editors.
---