---
Shape Magazine

For more information, call (800) 998-0731
---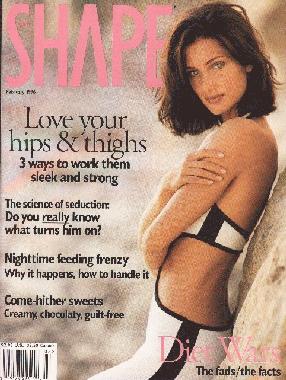 February 1996 Shape Magazine features articles containing lower body power for Pretty Hips and Thighs (PHAT), feasting after dark and how to curb it, and wearing his stuff (expand your wardrobe from his closet.) Shape's slogan is Mind and Body Fitness for Women.
---
Shape Magazine is geared for women who take care of themselves through fitness, aerobics, nutrition, etc. The editorial advisory board includes 29 of the most well-respected medical and health care professionals in the country. Contains articles about success stories of women who have changed their lives through healthful habits, and information about different workouts.


---
Table of Contents - February 1996 issue
---
Exercise
Do It Right: Work your abs with a terrific new exercise
One on One: Personal Trainer Linda Weiler shows you three hot moves to tone and shape your upper arms.
Training Edge: Can resting make your workouts more effective?
The P.H.A.T. Workout? You'll love our three part plan for Pretty Hips and Thighs
Love and War: It's martial arts. It's exercise. It's a heart pumping routine for the two of you. Check out the hottest cardio workout in town.
Diet & Nutrition
Shopping Smart: Take a gourmet coffee break
Recipe Makeover:: Have your brownies and eat them too.
The Night Eaters: How to curb your nighttime munchies.
Sweets for your Sweet: Six decadent, low fat desserts that will put the spark in your love life.
Sports & Adventure
Thrills & Chills: How risking ego and limb brings you closer to yourself.
Mind / Body Health
In Shape: What's new, what's hot in health & fitness: high altitude chow, virtual skiing, sleeping on the job.
Health: Is thin healthier? The real story behind the headlines.
Success Stories: Barbara Hall, Wendy Caumanns and Wendy Crooks tell you how its done.
Diets Through the Decades: Chronicling the ultimate battle of the bulge. Here is a look at the comical, sensible and scary ways we've tried to lose weight.
Turn-Ons: A scientific look at what really gets our fires burning.
Fashion & Beauty
Beauty in Action: Fresh ways to pick your best colors
Cross Dressing: Expand your workout wardrobe with the hottest things for his closet.
---