March / April 1998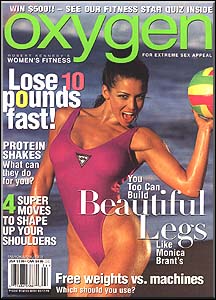 Robert Kennedy's Oxygen Magazine, is entirely devoted to women's fitness. It is totally committed to making Oxygen the most helpful, valuable, informative and entertaining women's fitness publication on the planet. Oxygen promises to tell the truth about women's fitness, which means it cannot happen overnight. A perfect body comes from serious sweat with serious nutrition. The March / April cover features Cori Nadine.
---
March / April 1998
Table of Contents
---

Features:
JUST FOR KICKS
Kick off the season in new fun loving sportswear.
SUPERSTAR FITNESS QUIZ
Match the childhood photos of the fitness stars with the way they look now and win $500.
TURN HIM ON
How to tantalize your man from head to toe.
INNER GAME
Whip your mental outlook into shape.
SHOOTING AHMO
Dynamite Ahmo Hight shares her preparation secrets for a fantastic photo shoot.
KATHLEEN KINMONT
Mastering all her elements - how one celebrity incorporates fitness into her famous lifestyle.
LEG WORK
Deal with unsightly and often painful varicose and spider veins.

Nutrition:
CUTTING CARBS
Having trouble shedding those final few pounds? Your carbohydrate consumption could be the culprit.
CHOCOLATE
Why you can't resist it and why, sometimes, you shouldn't even try.
SHAKE IT UP!Are you positive you are eating enough protein. If you meals aren't giving you what you need, a quick and tasty protein shake may be the answer.

Training:
TO BELT OR NOT TO BELT?
The truth about weight belts - when you need them, when you don't and what to look for if you plan to purchase your own.
MONICA BRANT IS A LEG ABOVE
The popular pro's winning leg workout.
DALE TOMITA'S GUIDE TO AEROBIC EXERCISE
Ten kinds of cardio - rated and debated.
FREE WEIGHTS VS. MACHINES
Which form is safer, will make you stronger, and should be used for a total body workout?
FOUR SHOULDER SHAPERS
Easy exercises you can perform anywhere.
WALKING
Good exercise is as simple as putting one foot in front of the other.
SIX SUPER LOWER BODY STRETCHES
Lost the limber feeling? Try these simple moves to limber up.
CALVES WITH CURVES
Dale Tomita's recommendations for killer calf training.
YOUR BEST CHEST EXERCISE
Flat bench, incline bench, decline bench presses or pulley exercises - which is better at isolating your upper and lower pecs.

Competitions:
THE LIFEQUEST TRIPLE CROWN
FITNESS FLASHES
1997 CANADIAN FITNESS CHAMPIONSHIPS
In Every Issue:
HOT AIR
The editor vents
LETTER
Get your message across
BODY WATCH
Health, fitness and nutrition news
WEB WATCH
Internet sites worth checking out.
BABE WATCH
A little inspiration
BEAUTY WATCH
Haircare, skincare and makeup tips.
TALK OF THE TOWN
Who's hot and what's not
COOKING CORNER
Vegetable soup for the soul.
BODYBUILDING BASICS
Lovely lean legs.
PRO'S POINT OF VIEW
What diet work best for their bodies
DOING IT RIGHT
Hanging leg raises
DOCTOR ON CALL
Dr. Christine Lydon's expert medical advice.
HOME IMPROVEMENTS
The ultimate upper body
RECIPES FOR SUCCESS
Milamar Flores' low fat favorites
FITNESS DYNAMICS
Marla Duncan offers insight into training, nutrition and beauty.
NEW FACES
Mini profiles on the industry's up and comers.
THE WINNING EDGE
Mia Finnegan answers your competition questions.
VICTORIA'S SECRETS
Vicky Pratt helps you build a better body.
TAKING AIM
Amy Fadhli's targets your body's trouble spots.
NEAT STUFF
Great gear for women on the go.
WHAT'S ON
Events you won't want to miss.
NEXT ISSUE
What's in the works