---
Oxygen Fitness Magazine

For more information, call (905) 678-7312
---
November / December 1997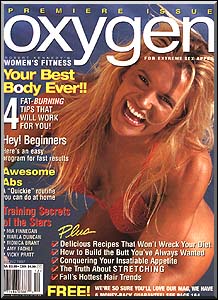 Robert Kennedy's Oxygen Magazine, is entirely devoted to women's fitness. It is totally committed to making Oxygen the most helpful, valuable, informative and entertaining women's fitness publication on the planet. Oxygen promises to tell the truth about women's fitness, which means it cannot happen overnight. A perfect body comes from serious sweat with serious nutrition. The Nov / Dec cover features Vicky Pratt.
---
November / December 1997
Table of Contents
---
Features:
Right Foot Forward: Star choreographer Lisa Nunziella teaches Monica Brant a thing or two about dancing.
The Magic of Mia: A bewitching blend of brains, beauty and athletic ability have made Mia Finnegan a very hot property in the wild world of fitness.
Weights & Women: Combat aging, prevent osteoporosis and eliminate weight. Three sound reasons why women should weight train.
The Wonder Drug: Is Redux, the hottest selling diet pill on the market, the weight loss miracle it claims to be?
Anything Goes: Kiss the status quo goodbye. This season, randomness rules supreme in the hair world.
Fall's Beauty Basics: Berry stained lips, apple colored cheeks, and veggie hued eyes highlight some of fall's bumper crop of makeup looks.
Nutrition:
Bad Food Days: Don't fall victim to out of control eating. Learn to conquer your cravings.
The Skinny on Fat: Is it time to blacklist your favorite foods?
Passing the Bar: Don't let chocolate wreak havoc with your healthy lifestyle, try a flavorful protein bar and reap the rewards. Oxygen taste tests 12 bars to make your buying decision easier.
Training:
4 Fat Burning Tips: Manipulate form, duration, frequency and intensity in your aerobic exercise to drop bodyfat from your figure.
Easy as 1, 2, 3: Brandy Hale's three day beginner routine will get you started on the road to success.
Great Gams and Glutes: Laurie Donnelly shares her training secrets for lovely legs and a beautiful behind.
Stretch: Stretching will improve your flexibility, performance and appearance.
Sculpting Shoulders: A good set of shoulders perfects your posture, slims your hips and balances your body. Mia Finnegan shows you how to build a terrific taper.
Your Best Butt Exercise: Forget all the fancy machinery. If you really want to work your glutes, try taking the stairs.
Competitions:
The Galaxy
World Pro Fitness
Ms. Fitness International
Ms. Fitness USA
Ms. Fitness World
In Every Issue:
Publisher's Message: Robert Kennedy's magnificent obsession
Hot Air: The editor vents
Letters: Get your message across
Body Watch: Health, fitness and nutrition news
Web Watch: Internet sites worth checking out.
Babe Watch: A little inspiration
Talk of the Town: Who's hot and what's not
Pro's Point of View: Seven expert's opinions on how to increase your lean muscle mass but still remain feminine.
Doing it Right: Triceps techniques
Cooking Corner: Cajun yellowfin ahi and oriental vegetables smothered in a pineapple carrot cilantro syrup.
Home Improvements: 5 exercises for awesome abs
Recipes for Success: Amy Fadhli's favorite low fat meals.
Products put to the Test: Exercise videos fit to be tried.
Fitness Dynamics: Marla Duncan offers insight into training, nutrition and beauty.
The Winning Edge: Mia Finnegan answers your competition questions.
Victoria's Secrets: Vicky Pratt helps you build a better body.
Oxygen's Bodybuilding Basics: Getting started
Doctor on Call: Dr. Christine Lydon's expert medical advice.
Taking Aim: Amy Fadhli's targets your body's trouble spots.
New Faces: Mini profiles on the industry's up and comers.
Neat Stuff: Great gear for women on the go
What's On: Events you won't want to miss
Next Issue: What's in the works
---