Winter 1997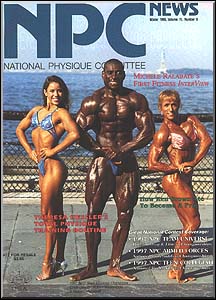 The NPC News is a magazine which cannot be purchased on magazine shelves. It is published for members of the NPC. It is a excellent magazine for those who are in the NPC, and for those who enjoy amateur bodybuilding, and learning about bodybuilders who soon will vie for Professional status. It's new section is also for the NPC Fitness, which is growing rapidly. It also features articles on a number of bodybuilding contests. On the cover is Cindy Darmer, Robert Washington and Peggy Schoolcraft.
---
Winter 1997
Table of Contents
Volume 11, Number 6
---
Special Highlights:
1997 NPC Team Universe Bodybuilding & Fitness Championships
1997 NPC Teen & Collegiate National Bodybuilding Championships
1997 NPC U.S. All Armed Forces National Bodybuilding Championships
Articles:
1997 NPC Suburban Bodybuilding & Fitness Championships
1997 NPC Caveman Classic
Creatine loading for improved muscular performance.
Regular Features:
Interview: Michele Ralabate
Multi-Media
Competition Dieting
NPC Fitness Corner
TIPS: Chest
Contest Activity Report
Around the NPC
On the Cover:
1997 NPC Team Universe overall champions Cindy Darmer, Robert Washington and Peggy Schoolcraft. Photographed in Battery Park, New York City, by J.M. Manion