---
NPC News Magazine

For more information, call (212) 289-5033
---
January / February 1997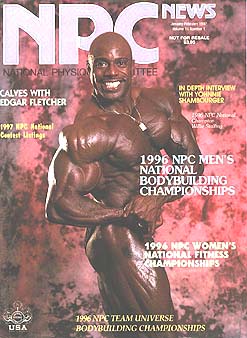 The January / February issue of the NPC News (National Physique Committee) features an excellent interview with Yohnnie Shambourger. It also features articles on a number of bodybuilding contests, including the 1996 NPC Pittsburgh Bodybuilding & Fitness Championships.
The NPC News is a magazine which cannot be purchased on magazine shelves. It is published for members of the NPC. It is a excellent magazine for those who are in the NPC, and for those who enjoy amateur bodybuilding, and learning about bodybuilders who soon will vie for Professional status.
---
January / February 1997 Table of Contents
---
Special Highlights:
1996 NPC Men's National Bodybuilding Championships
1996 NPC Women's National Fitness Championships
1996 NPC Team Universe Championships
Articles:
1996 NPC XII Annual Maine Muscle Classic
1996 5th Annual NPC Dean Caputo Powerhouse Classic
1996 NPC Pittsburgh Bodybuilding & Fitness Championships
Regular Features:
Interview: Yohnnie Shambourger
Twinlab Report
Multi-Media
Competition Dieting
NPC Fitness Corner
TIPS: Calves
Contest Activity Report
Around the NPC
On the Cover:
1996 NPC National Bodybuilding champion Willie Stallig, photographed in Dallas, Texas, by J.M. Manion.
---