March 1998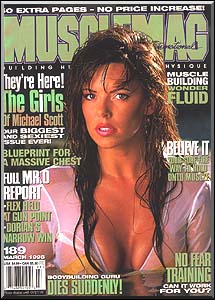 Larry Scott, the first Mr. Olympia, is the star profile in this issue. The fitness model on the cover is Tara Caballero. Robert Kennedy's Musclemag International prides itself in the principle of building health, fitness and physique, and considers themselves the 'What's New' Magazine of Bodybuilders. This magazine covers all bodybuilding events and techniques, and has excellent pictures. Serious bodybuilders will enjoy this magazine.

---
March 1998 Table of Contents
Number 189
---
FEATURES
THE AMAZING WONDER FLUID
How can something so cheap as water be so precious to health, muscle and life?
EXCLUSIVE! MICHAEL SCOTT - IMAGE MAKER!
A 50 page never before seen portrait of the world's most elusive photographer of females and his most high profile outrageously beautiful and sexy fitness models. If you like beautiful photography and beautiful women with the flow of fitness - check this one out!
VINCE GORONDA
The Iron Guru, dead at 79!
GYMS OF ROUTE 66
Brian Moss takes us on the journey of a lifetime to feed his love affair with America.

TRAINING
A CHEST POUNDING EXPERIENCE
The chest is the foundation of power and authority. Here's how to add both size and thickness to yours.
FEAR OF HEAVY WEIGHTS!
Is holding back on adding plates to the bar keeping you from being huge?
BELIEVE IT!
When it comes to training and maintaining, a little is better than none.

BIOGRAPHY
THOMAS ZECHMEISTER
The Austrian giant whose name and persona are more than just a mouthful.
STAR PROFILE: LARRY SCOTT
This month we turn back the clock to rediscover Larry Scott, our very first Mr. Olympia.

CONTESTS
MR. OLYMPIA
Complete coverage and backstage gossip, including the controversy surrounding Flex Wheeler - from bodybuilding's greatest spectacle.
EUROPEAN GRAND PRIX
Kevine Levrone cleans up in the old world. Ronnie Coleman narrowly wins the cold war in Russia. Flash Report!

REGULARS
Arnold Hotline: with Tyler Dinwoodle
Ask Bob: with Robert Kennedy
Beef It! Ultimate Muscle
Bodybuilding Basics: Getting it all to grow
Canadian Corner: with Garry Barlett
Classified Advertising: Products and Services
First Rep: Editorial
Fit Mart: New products and ideas
Hardcore Training Journal: For the devoted muscle builder
Intake Update: With Will Brink
Last Rep: Ultimate Pump
Muscle Beach: West Coast Rap
Muscle Buzz: News, Views and Gossip
Muscle Mail: Reader's Forum
Muscle News: With Robert Kennedy
Muscle Tips: Reader's Advice
Musclemag Quiz: Physique Challenge
Musclemag's Pro Ranking: Latest Update
New Faces: Stars of the Future
Our Way: Probing the Pros
Parrillo Maxx: With John Parrillo
Pro Training: With Charles Glass
Sets & Reps (New Feature): With Frank Sepe
Super Bodz: with Larry McCusker
Top Bodz: Muscle at its best
Uncensored! with Greg Zulak
Up Next: Next month in Musclemag
What If ...? With Larry McCusker
What's On: When, Where and Who?