February 1998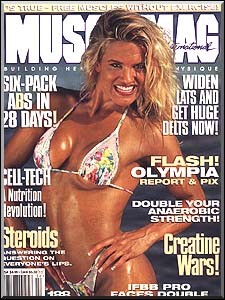 Ray 'Thunder' Stern is the star profile in this issue. The fitness model on the cover is Vicky Pratt. Robert Kennedy's Musclemag International prides itself in the principle of building health, fitness and physique, and considers themselves the 'What's New' Magazine of Bodybuilders. This magazine covers all bodybuilding events and techniques, and has excellent pictures. Serious bodybuilders will enjoy this magazine.

---
February 1998 Table of Contents
Number 188
---
Features:
IN MEMORY OF JEEP SWENSON
The man of great powers is remembered.
A THINKING MAN'S MASS
Martin Boonzaayer is a rarity in the ranks of muscle freaks. He's a thinking man's bodybuilder who doesn't suffer from an unbalanced ego!
FREE MUSCLES
How taking away a gene can turn you into a Dorian Yates - without ever lifting a weight! Is this the future of bodybuilding? Here's your chance to help find the answer to exercise free muscle.
SHOULD I USE STEROIDS?
Ron Harris speaks the unspeakable by asking the big roid question: Should I or shouldn't I? What's more, he answers it too. Check this one out.
DON'T OVERLOOK ANAEROBIC STRENGTH
Did you ever stop and reflect upon the fact that virtually 95 perfect of everything you do in life is anaerobic? And that includes weight training
PUMPABILITY
The blood and iron equation. Getting more pumped means getting more size - it's that simple. Or is it?

Nutrition:
THE CELL-TECH NUTRITIONAL REVOLUTION
Can you imagine a substance that has all the muscle building benefits of insulin, without any of the side effects? Muscletech can.
THE CREATINE WAR CONTINUES
An overall view by Franco Cavaleri - IFBB Mr. North America.

Training:
THE BRICKS OF LIFE - 28 DAYS TO ABS
Calling all 'belly' bodybuilders! Come on, it's ab time again. Here's a flabs to abs routine that can give you a tighter set of washboards in just 28 days.
DELTS OF A CHAMPION
Training heavy on the specificity principle for serious delt size with Craig Titus
ADDING WIDTH TO YOUR LATS
The best back exercises and routines to add inches to even the most stubborn lats. A must for every lat-conscious bodybuilder!

Biography:
STAR PROFILE
This month we hone in on Ray 'Thunder' Stern, a self made millionaire with the heart of a champion. A man who is also a self confessed health and muscle freak.

Contests:
BONGIOVANNI WINS!
Photo report from the Jan Tana Classic.
FLASH MR. OLYMPIA RESULTS
A flash photo report from the Long Beach of the 'Dorian and Vince Show', the Mr. and Masters Olympia 1997.

Regulars:
Arnold Hotline: with Tyler Dinwoodle
Ask Bob: with Robert Kennedy
Beef It! Ultimate Muscle
Bodybuilding Basics: Getting it all to grow
Canadian Corner: with Garry Barlett
Classified Advertising: Products and Services
First Rep: Editorial
Fit Mart: New products and ideas
Hardcore Training Journal: For the devoted muscle builder
Intake Update: With Will Brink
Last Rep: Ultimate Pump
Muscle Beach: West Coast Rap
Muscle Buzz: News, Views and Gossip
Muscle Mail: Reader's Forum
Muscle News: With Robert Kennedy
Muscle Tips: Reader's Advice
Musclemag Quiz: Physique Challenge
Musclemag's Pro Ranking: Latest Update
New Faces: Stars of the Future
Our Way: Probing the Pros
Parrillo Maxx: With John Parrillo
Pro Training: With Charles Glass
Sets & Reps (New Feature): With Frank Sepe
Super Bodz: with Larry McCusker
Top Bodz: Muscle at its best
Uncensored! with Greg Zulak
Up Next: Next month in Musclemag
What If ...? With Larry McCusker
What's On: When, Where and Who?