January 1998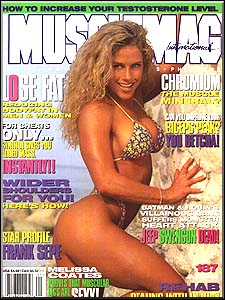 Frank Sepe is the star profile in this issue. The competitor on the cover is Monica Brant. Robert Kennedy's Musclemag International prides itself in the principle of building health, fitness and physique, and considers themselves the 'What's New' Magazine of Bodybuilders. This magazine covers all bodybuilding events and techniques, and has excellent pictures. Serious bodybuilders will enjoy this magazine.

---
January 1998 Table of Contents
Number 187
---
Features:
WHEN WILL THE CHEATING MADNESS STOP?
Want more biceps peak? How about wider delts? Feel like adding an inch or so to your calves? No problem. Just pass the oil and needle and start sticking'. The sad, sad tale of instant muscle.
THE GENDER RIP
Greg Zulak examines the essential differences between males and females fighting for ultralow bodyfat.
RULES FOR REHABBING
Bill Starr helps those whose bodies have let them down under the stress of muscle building.
THE HYPE WAS RIGHT
Experience a Venice Beach weekend seminar.
Nutrition:
CHROMIUM
All you need to know about chromium, the muscle mineral.
MORE MIRACULOUS TESTOSTERONE. NATURALLY.
Increase your testosterone level and increased muscle size will follow. We all know the truth of this statement, but how can it be done? Here, perhaps, is the answer...
Training:
STUPENDOUS SHOULDERS
Superadvanced Olympia shoulder training with Ronnie Coleman
CANADIAN LEG-ACY
How Melissa Coates created the legs of a champion.
SUCCESS SERIES: HOT DAWG UPPERS!
Check this one out before you give up on owning full, peaked impressive biceps. Build new arm size now - Hot dawg...
Biography:
STAR PROFILE
This month we feature a man who has managed to become a bodybuilding superstar without witout every winning a major title. His name - Frank Sepe.
Contests:
NPC USAs 1997
Photo report from the NPC USA Bodybuilding and Fitness Championships
SUPER FITNESS HAWAII
Marlo Selin's MET-Rx Super Fitness event from the volcanic sands of paradise.
Regulars:
Arnold Hotline: with Tyler Dinwoodle
Ask Bob: with Robert Kennedy
Beef It! Ultimate Muscle
Bodybuilding Basics: Getting it all to grow
Canadian Corner: with Garry Barlett
Classified Advertising: Products and Services
First Rep: Editorial
Fit Mart: New products and ideas
Hardcore Training Journal: For the devoted muscle builder
Intake Update: With Will Brink
Last Rep: Ultimate Pump
Muscle Beach: West Coast Rap
Muscle Buzz: News, Views and Gossip
Muscle Mail: Reader's Forum
Muscle News: With Robert Kennedy
Muscle Tips: Reader's Advice
Musclemag Quiz: Physique Challenge
Musclemag's Pro Ranking: Latest Update
New Faces: Stars of the Future
Our Way: Probing the Pros
Parrillo Maxx: With John Parrillo
Pro Training: With Charles Glass
Sets & Reps (New Feature): With Frank Sepe
Super Bodz: with Larry McCusker
Top Bodz: Muscle at its best
Uncensored! with Greg Zulak
Up Next: Next month in Musclemag
What If ...? With Larry McCusker
What's On: When, Where and Who?