---
Musclemag International Magazine

For more information, call (905) 678-7311
---
December 1997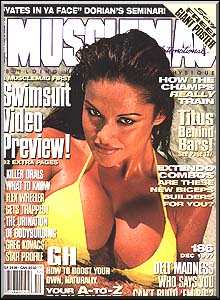 Denise Halo graces the cover of the December 1997 MuscleMag. Inside, the star profile features the giant 320 pound Greg Kovacs, with interesting tidbits about his life, and how he got to where he is at. Other exciting pictorials include 32 pages of the hottest fitness babes posing at the Bahamas for a special Fitness Video.

---
December 1997 Table of Contents
Number 186
---
Features:
Dorian Speaks: Bob Kennedy hosts the Dorian Yates seminar in Toronto
Hardbodz on Location: MuscleMag's speak preview of the 'Hottest Fitness Video of the Century!' Turn your air conditioner on for this one. 32 pages of excitement!
Natural GH: Is there a place for it in your training program?
Killer Diuretics - Part Two: The colclusion on risking death by cutting up in the can
Vince Gironda - Natural Philosopher: D.G. felt sick to his stomach. Could it really be that the shrine to muscle he knew as Vince's Gym was no more?
The Marriage of Flex Wheeler: Flex gets caught in the tender trap and loves every minute of it.
Oral Hypoglycemic Drugs and Bodybuilding: Bruce Kneller gives the lowdown on insulin takers and the dangers they choose to ignore in order to muscle up.
Nutrition:
Anotesten - the new muscle building miracle! Discovered way back in 1934, it has taken today's high technology to reveal what may be the best muscle builder of them all.
The Truth about Protein - The Muscle Molecule: If you think you know everything about protein - you're wrong!
Training:
Double Quick Biceps Gains: Try these extended set combinations for biceps size, mass, shape and muscularity.
Delt Madness! National champ Willie Stalling talks big shoulder building.
When is Heavy Too Heavy? Megapoundage equals megagains - or does it? Craig Hartglass says yes, but only sometimes. Check this one out. You may be doing it all wrong!
Success Series: Listen Up - Exclusive! How the champs really train - and we mean really. Perhaps our most important article ever. Read it!
Biography:
Star Profile: Greg Kovacs: You've read articles about him, heard rumors about his amazing strength, and seen pictures of him in countless ads that appear in all magazines. Now check out our star profile to discover the real Greg Kovacs.
Regulars:
Arnold Hotline: with Tyler Dinwoodle
Ask Bob: with Robert Kennedy
Beef It! Ultimate Muscle
Bodybuilding Basics: Getting it all to grow
Canadian Corner: with Garry Barlett
Doctor's Corner: with Dr. Mauro DiPasquale
First Rep: Editorial
Fit Mart: New products and ideas
Hardcore Training Journal: For the devoted muscle builder
Intake Update: With Will Brink
Last Rep: Ultimate Pump
Muscle Beach: West Coast Rap
Muscle Buzz: News, Views and Gossip
Muscle Mail: Reader's Forum
Muscle News: With Robert Kennedy
Muscle Tips: Reader's Advice
Musclemag Quiz: Physique Challenge
Musclemag's Pro Ranking: Latest Update
New Faces: Stars of the Future
Our Way: Probing the Pros
Parrillo Maxx: With John Parrillo
Power Page: with Chris Confessore
Pro Training: With Charles Glass
Sets & Reps (New Feature): With Frank Sepe
Super Bodz: with Larry McCusker
Top Bodz: Muscle at its best
Uncensored! with Greg Zulak
What If ...? With Larry McCusker
What's On: When, Where and Who?
Wisdom of Grimek: with John Grimek
---