---
Musclemag International Magazine

For more information, call (905) 678-7311
---
November 1997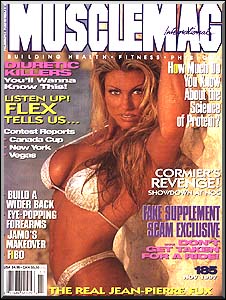 Denise Paglia is the star profile in this issue, along with an interview with Flex Wheeler and Jean Pierre Fux. The competitor on the cover is Stacey Lynn. Robert Kennedy's Musclemag International prides itself in the principle of building health, fitness and physique, and considers themselves the 'What's New' Magazine of Bodybuilders. This magazine covers all bodybuilding events and techniques, and has excellent pictures. Serious bodybuilders will enjoy this magazine.

---
November 1997 Table of Contents
Number 185
---
Features:
Diuretic Killers! The first of a two part Venice Beach expose' on the truth and consequences of cutting up in the can.
The 1997 FIBO: Insights and observations from the higly successful FIBO extravanganza held in Germany.
Flex Wheeler speaks: Sitting in on an up front seminar with the winningest pro of 1997.
Nutrition:
The Science of Nutrition: Forget about which is the best roid on the (black) market. Start with what really counts - the best protein.
The Counterfeit Supplement Scams: Given half a change most people - but not all - are honest. The same goes for supplement manufacturers.
Training:
Jamo Nezzar: Wat a difference a year makes?
Don't Forsake Forearms: It could be your fatal mistake!
Success Series: Put you back into it! A truly great back is one that is developed not only from top to bottom, but from every other angle as well.
Biography:
Star Profile: Denise Paglia.
Jean-Pierre: Though he exploded onto the international bodybuilding scene in early 1996 and has kept eyes popping in disbelief ever since, few know much about mystery man Jean Pierre Fux.
Contests:
1997 Night of Champion: Cormier's Revenge: Mishko has to settle for second in New York, but the buggest surpirse of the Night of Champions was necomer Ernie Taylor.
1997 Canada Cup: Report from Toronto of the Canada Cup and Fitness Championships.
1996 NPC Vegas: Muscles, Slots N Fitness: Report of a brains, brawn and fitness happening in Vegas.
Regulars:
Arnold Hotline: with Tyler Dinwoodle
Ask Bob: with Robert Kennedy
Beef It! Ultimate Muscle
Bodybuilding Basics: Getting it all to grow
Canadian Corner: with Garry Barlett
Doctor's Corner: with Dr. Mauro DiPasquale
First Rep: Editorial
Fit Mart: New products and ideas
Hardcore Training Journal: For the devoted muscle builder
Intake Update: With Will Brink
Last Rep: Ultimate Pump
Muscle Beach: West Coast Rap
Muscle Buzz: News, Views and Gossip
Muscle Mail: Reader's Forum
Muscle News: With Robert Kennedy
Muscle Tips: Reader's Advice
Musclemag Quiz: Physique Challenge
Musclemag's Pro Ranking: Latest Update
New Faces: Stars of the Future
Our Way: Probing the Pros
Parrillo Maxx: With John Parrillo
Power Page: with Chris Confessore
Pro Training: With Charles Glass
Sets & Reps (New Feature): With Frank Sepe
Super Bodz: with Larry McCusker
Top Bodz: Muscle at its best
Uncensored! with Greg Zulak
What If ...? With Larry McCusker
What's On: When, Where and Who?
Wisdom of Grimek: with John Grimek
---