---
Musclemag International Magazine

For more information, call (905) 678-7311
---
October 1997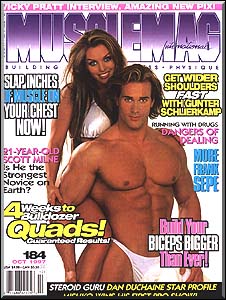 Dan Duchaine is the star profile in this issue. The competitors on the cover are Mike O Hearn and Midajah. Robert Kennedy's Musclemag International prides itself in the principle of building health, fitness and physique, and considers themselves the 'What's New' Magazine of Bodybuilders. This magazine covers all bodybuilding events and techniques, and has excellent pictures. Serious bodybuilders will enjoy this magazine.

---
October 1997 Table of Contents
Number 184
---
Features:
Badda Boom, Badda Bing! If you think that a roid dealer's main cause for concern is being caught by the law ... think again. There's danger from all sides when you start to push those needles and pills.
The Unsurpassed Vicky: She's intuitive, sparkling and generous with oodles of sex appeal. She's Vicky Pratt.
Which road do I take? Frank Sepe has so much natural talent he could choose either mainstream or hardcore and be just as successful... But then again, what about modeling?
The Strongest Novice on Earth! Profiling the incredible power of a physique in progress, and he's barely out of his teens.
Recovery Discoveries: Anyone who has ever lifted a weight in anger has likely experienced overtraining. Here's how to deal with it.
Nutrition:
Alcohol and Caffeine: and the serious bodybuilder. The truth behind the untruths...
Training:
Guns 'n' Ammo! Biceps upping with Garrett Downing
Gunter's shoulder slaughter: Building Teutonic delts with Gunter Schlierkamp.
Perplexing Pecs (Made Simple): Simplifying pec=training for greater gains.
Four Weeks to Bulldozer Quads! Follow this upper leg routine for just a month and we guarantee you will experience a growth pump like you've never known before.
Biography:
Star Profile: It had to happen. No one in the bodybuilding arena who carries this much clout can escape the long arm of the MuscleMag Star Profile. Who are we referring to? Dan Duchaine, of course...
Contests:
Toronto Pro International: Mishko (Milos) Sarcev wins the Toronto Pro International. The full report...
Regulars:
Arnold Hotline: with Tyler Dinwoodle
Ask Bob: with Robert Kennedy
Beef It! Ultimate Muscle
Bodybuilding Basics: Getting it all to grow
Canadian Corner: with Garry Barlett
Doctor's Corner: with Dr. Mauro DiPasquale
First Rep: Editorial
Fit Mart: New products and ideas
Hardcore Training Journal: For the devoted muscle builder
Intake Update: With Will Brink
Last Rep: Ultimate Pump
Muscle: News, Views, Gossip
Muscle Beach: West Coast Rap
Muscle Mail: Reader's Forum
Muscle News: With Robert Kennedy
Muscle Tips: Reader's Advice
Musclemag Quiz: Physiques Challenge
Musclemag's Pro Ranking: Latest Update
New Faces: Stars of the Future
Our Way: Probing the Pros
Overhead: The Spoken Word
Parrillo Maxx: With John Parrillo
Power Page: with Chris Confessore
Pro Training: With Charles Glass
Super Bodz: with Larry McCusker
Super Fitness: With Marla Duncan
Top Bodz: Muscle at its best
Uncensored! with Greg Zulak
What If ...? With Larry McCusker
What's On: When, Where and Who?
Wild Physique: with Vince Gironda
Wisdom of Grimek: with John Grimek
---