---
Musclemag International Magazine

For more information, call (905) 678-7311
---
September 1997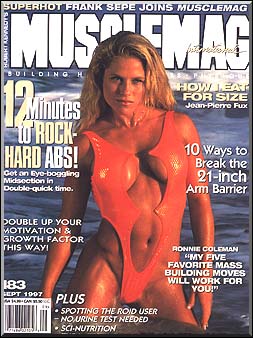 Laura Binetti is the star profile in this issue, with a great interview and information on her. The fitness model on the cover is Monica Brant. Robert Kennedy's Musclemag International prides itself in the principle of building health, fitness and physique, and considers themselves the 'What's New' Magazine of Bodybuilders. This magazine covers all bodybuilding events and techniques, and has excellent pictures. Serious bodybuilders will enjoy this magazine.

---
September 1997 Table of Contents
Number 183
---
Training:
Aussie Arm Assault! Megamass training. Ten ways to help yourself measure up to the 21 inch guns of Lee Priest.
My Favorite Mass Builders: Wonder cop Ronnie Coleman gives us his secrets to building serious beef.
Twelve Minutes to Rock Hard Abs: The 12 minute spare time ad routine you can do anywhere.
Features:
Spotting the Roid User: Yes, you can. And you don't need a jar filled with urine to do it either!
Oh Yeah! The new show biz persona of Flex Wheeler.
Mutual Motivation: Greg Zulak explores in depth the many fors (and the odd against) of selective buddy training. Insightful.
Nerve Fatigue: Overtraining and staleness are a bodybuilder's worst enemies. Don't let them happen to you. Here's how...
Nutrition:
Cooking for Jean-Pierre Fux. How Karin Scheuber keeps her man from the muscle hungries.
Winning with Sodium: There is a place for salt in successful bodybuilding. That's right ... you read it correctly the fist time... salt.
Sci-Nutrition 3: Will Brink ends his trilogy of research into state of the art thinking on supplementation as a bodybuilding aid.
Biography:
Star Profile: This month, we feature a woman who is without a doubt the most muscular pro bodybuilder in Canada and possibly the best ambassador we have for our sport north of the border.
Naturally Intact: Despite the push so called "naturally" trained physiques in certain quarters of our sport, there really are honest to goodness nonchemical athletes out there. Michelle DuBois is one.
Contests:
Flex makes it 3 for 3! Full photo report from the San Jose Pro Invitational.
Regulars:
Arnold Hotline: with Tyler Dinwoodle
Ask Bob: with Robert Kennedy
Beef It! Ultimate Muscle
Bodybuilding Basics: Getting it all to grow
Canadian Corner: with Garry Barlett
Doctor's Corner: with Dr. Mauro DiPasquale
First Rep: Editorial
Fit Mart: New products and ideas
Hardcore Training Journal: For the devoted muscle builder
Intake Update: With Will Brink
Last Rep: Ultimate Pump
Muscle: News, Views, Gossip
Muscle Beach: West Coast Rap
Muscle Mail: Reader's Forum
Muscle News: With Robert Kennedy
Muscle Tips: Reader's Advice
Musclemag Quiz: Physiques Challenge
Musclemag's Pro Ranking: Latest Update
New Faces: Stars of the Future
Our Way: Probing the Pros
Parrillo Maxx: With John Parrillo
Pro Training: With Charles Glass
Super Bodz: with Larry McCusker
Super Fitness: With Marla Duncan
Top Bodz: Muscle at its best
What If ...? With Larry McCusker
What's On: When, Where and Who?
Wild Physique: with Vince Gironda
Wisdom of Grimek: with John Grimek
---