---
Musclemag International Magazine

For more information, call (905) 678-7311
---
August 1997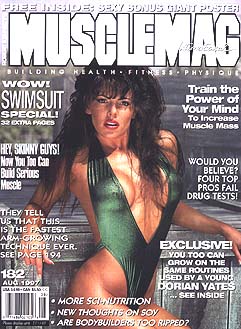 The 1997 Summer Swimsuit edition is here, with 32 pages of fitness models modeling the latest in swimsuit fashions. Also featured are three contests, including the Arnold Classic, Ironman Pro, and the Ms. International. Gunter Schlierkamp is the star profile in this issue, with a great interview and information on him. The fitness model on the cover is Tara Caballero.
Robert Kennedy's Musclemag International prides itself in the principle of building health, fitness and physique, and considers themselves the 'What's New' Magazine of Bodybuilders. This magazine covers all bodybuilding events and techniques, and has excellent pictures. Serious bodybuilders will enjoy this magazine.


---
August 1997 Table of Contents
---
Training:
Training Back with Jose "Pepe" Feliu: How the light framed athlete can pack serious muscle onto their entire back area.
Dorian Yates - Like a Rock: The routine of yesterday that made him he is today.
Synergistic Alternates - for Really Big Arms: The art of increasing the size of your arms by combining one exercise with another correctly. It really works - big time!
Brain Training: Greg Merritt proves that no matter how strong your body may be, your mind is stronger! How training the power of your mind can increase muscle size.
Features:
In the Sun! Super summer swimsuit 32-page special!
The History of Ripped Size: Greg Zulak researches the whole history of 'ripped size' as only he can. Very interesting stuff.
Nutrition:
Sci-Nutrition: Part Two. Will Brink continues his look into what's the latest in the world of muscle building and fat reducing supplements.
The (Partial) Vindication of Soy Protein: Go on a voyage of discovery from acres of soy beans to inches of new muscle.
Biography:
Star Profile: This month, we feature the gentle giant from Germany, Gunter Schlierkamp.
Contests:
Ms. International: Full report of the prestigeous women's bodybuilding contest from Columbus.
Ironman Pro Invitational: Photo report of the year's first pro event.
Arnold Classic Update: A second glance at the Schwarzenegger fitness and bodybuilding weekend. Great pix!
Regulars:
Arnold Hotline: with Tyler Dinwoodle
Ask Bob: with Robert Kennedy
Beef It! Ultimate Muscle
Bodybuilding Basics: Getting it all to grow
Canadian Corner: with Garry Barlett
Doctor's Corner: with Dr. Mauro DiPasquale
First Rep: Editorial
Fit Mart: New products and ideas
Hardcore Training Journal: For the devoted muscle builder
Intake Update: With Will Brink
Last Rep: Ultimate Pump
Muscle: News, Views, Gossip
Muscle Beach: West Coast Rap
Muscle Mail: Reader's Forum
Muscle News: With Robert Kennedy
Muscle Tips: Reader's Advice
Musclemag Quiz: Physiques Challenge
Musclemag's Pro Ranking: Latest Update
New Faces: Stars of the Future
Our Way: Probing the Pros
Overheard: The Spoken Word
Parrillo Maxx: With John Parrillo
Pro Training: With Charles Glass
Repping with Marjo: with Marjo Selin
Super Bodz: with Larry McCusker
Super Fitness: With Marla Duncan
Top Bodz: Muscle at its best
What If ...? With Larry McCusker
What's On: When, Where and Who?
---