---
Musclemag International Magazine

For more information, call (905) 678-7311
---
July 1997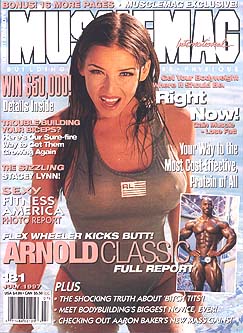 Flex Wheeler dominated the Arnold Classic as MuscleMag Magazine was there to cover it all with 18 pages of photo packed and in depth contest reporting. Robby Robinson is the star profile in this issue, with a great interview and information on him. The fitness model on the cover is Cori Nadine.
Robert Kennedy's Musclemag International prides itself in the principle of building health, fitness and physique, and considers themselves the 'What's New' Magazine of Bodybuilders. This magazine covers all bodybuilding events and techniques, and has excellent pictures. Serious bodybuilders will enjoy this magazine.


---
July 1997 Table of Contents
---
Training:
Scott Milne - Farm Boy with a Future: The story of a new young colossus who is destined to become more than a myth.
Samir's Smokin Guns: We asked how the Lion of Lebanon trains his arms. "Like Hell" he replied "you can't shoot for success if your guns are not loaded".
Features:
Checking in with Aaron Baker: If you never considered Aaron Baker as the most underrated pro ever, check out his latest mega mass pix. You'll be convinced.
Gynecostia: The shocking truth about bitch tits.
Just Do It! Bob Kennedy has done it again. Check out his latest sizzling, sexy super fitness discovery - Stacey Lynn.
Nutrition:
Moo Juice: A guide to the poor man's deluxe mass building, weight gaining premixed carb protein drink.
Weight Management for Better Health: Correct weight management is a vital ingredient of health maintenance and always will be.
Biography:
Star Profile: This month, we feature the black prince, Robby Robinson.
Contests:
Arnold Classic: 18 extra pages of great photos and in depth full contest report from Columbus, Ohio.
Fitness America: Report from the National Championships
Victory on Wheels: Report from the third annual National Wheelchair Competition.
Regulars:
Arnold Hotline: with Tyler Dinwoodle
Ask Bob: with Robert Kennedy
Beef It! Ultimate Muscle
Bodybuilding Basics: Getting it all to grow
Canadian Corner: with Garry Barlett
Doctor's Corner: with Dr. Mauro DiPasquale
First Rep: Editorial
Fit Mart: New products and ideas
Hardcore Training Journal: For the devoted muscle builder
Intake Update: With Will Brink
Last Rep: Ultimate Pump
Muscle: News, Views, Gossip
Muscle Beach: West Coast Rap
Muscle Mail: Reader's Forum
Muscle News: With Robert Kennedy
Muscle Tips: Reader's Advice
Musclemag Quiz: Physiques Challenge
Musclemag's Pro Ranking: Latest Update
New Faces: Stars of the Future
Our Way: Probing the Pros
Overheard: The Spoken Word
Parrillo Maxx: With John Parrillo
Pro Training: With Charles Glass
Repping with Marjo: with Marjo Selin
Super Bodz: with Larry McCusker
Super Fitness: With Marla Duncan
Top Bodz: Muscle at its best
What If ...? With Larry McCusker
What's On: When, Where and Who?
---