---
Musclemag International Magazine

For more information, call (905) 678-7311
---
June 1997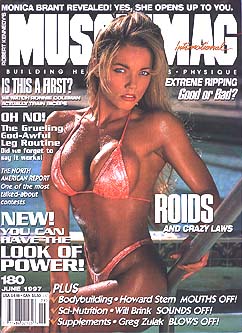 The June issue features an interview with the biggest, baddest bodybuilder of all... super radio jock Howard Stern. Well, maybe not... but it is still a good interview. Other interesting articles include a bio on Monica Brant, and Ronnie Coleman's 23 inch biceps and how to attain them. This months cover features Dena Doster.
Robert Kennedy's Musclemag International prides itself in the principle of building health, fitness and physique, and considers themselves the 'What's New' Magazine of Bodybuilders. This magazine covers all bodybuilding events and techniques, and has excellent pictures. Serious bodybuilders will enjoy this magazine.


---
June 1997 Table of Contents
---
Training:
Armed and Dangerous: Ronnie Coleman's amazing all out assault on his 23 inch off season biceps.
Grueling God-Awful Leg Routines: Henrik Thamasian's leg workout is not meant for the weak of heart or meek of will. It's meant to pack muscle on to your legs.
The Look of power: What is it about the look of power that drives men wild to achieve it?
Features:
Steroids and the Law: Should our legislators take a closer look at the laws that govern roid use.
Stern Words on Bodybuilding: The Howard Stern, a bodybuilder? That's right, folks. MuscleMag's up close and personal interview with the most flamboyant and listened to man in history.
Too Ripped? Bodybuilder's are dying to be ripped - literally! Is this craze for cuts going to be the death of competitive bodybuilding? Greg Zulak explores the reason why bodybuilders would willingly endanger their own lives.
Nutrition:
Sci-Nutrition: Want the latest scoop on which supplements and nutrients are best for gaining size, reducing bodyfat and improving health? Will Brink is here to help you.
Zulak Uncensored: Greg Zulak has never held himself back when it comes to talking bodybuilding. Check out what 'tell it like it is' Greg does with an uncensored Q&A.
"I'm Mad as Hell": Trainer to the pros, Scott Abel sounds off big time about high level hype and low level quality of supplements.
Biography:
Star Profile: Monica Brant: This month, we feature beauty, sex and fitness in the form of pro fitness competitor Monica Brant.
Contests:
The North American Championships: John Simmons gets his pro card. Full contest report from Ottawa.
Whirlwind of Fitness: Lifequest's first triple crown championship from Charleston, South Carolina.
Regulars:
Arnold Hotline: with Tyler Dinwoodle
Ask Bob: with Robert Kennedy
Beef It! Ultimate Muscle
Body by Fisher: with Dave Fisher
Bodybuilding Basics: Getting it all to grow
Canadian Corner: with Garry Barlett
Doctor's Corner: with Dr. Mauro DiPasquale
First Rep: Editorial
Fit Mart: New products and ideas
Hardcore Training Journal: For the devoted muscle builder
Intake Update: With Will Brink
Last Rep: Ultimate Pump
Muscle: News, Views, Gossip
Muscle Beach: West Coast Rap
Muscle Mail: Reader's Forum
Muscle News: With Robert Kennedy
Muscle Tips: Reader's Advice
Musclemag Quiz: Physiques Challenge
Musclemag's Pro Ranking: Latest Update
New Faces: Stars of the Future
Our Way: Probing the Pros
Overheard: The Spoken Word
Parrillo Maxx: With John Parrillo
Power Page: With Chris Confessore
Pro Training: With Charles Glass
Super Fitness: With Marla Duncan
Superbodz: with Larry McCusker
Top Bodz: Muscle at its best
What if? With Larry McCusker
What's On: When, Where and Who?
---