---
Musclemag International Magazine

For more information, call (905) 678-7311
---
May 1997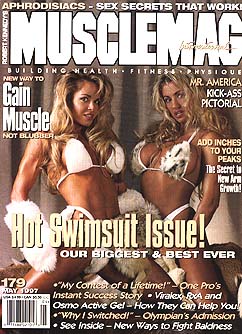 The May issue features 32 more pages of the swimsuit issue, as the way the fans want it. Other articles include the Canadian Bodybuilding Championships, an interview with Achim Albrechts, how John Simmons won his pro card, and much more. This months cover features Ami Fadhli and Kim Paul.
Robert Kennedy's Musclemag International prides itself in the principle of building health, fitness and physique, and considers themselves the 'What's New' Magazine of Bodybuilders. This magazine covers all bodybuilding events and techniques, and has excellent pictures. Serious bodybuilders will enjoy this magazine.


---
May 1997 Table of Contents
---
Training:
Peaking the Peak: How champ Willie Stalling trains arms?
How to Gain the right Kind of Weight: You wanna get big, so you eat... but you'd better do it right. Muscular bulk is a world away from blubber guts!
Features:
Viralex, RXA, and Osmo Active Gel: What's new from the TopMax lab? Supplement review.
Antioxidants: Bill Starr's take on the increasing necessity of antioxidants in the nineties.
Herbal Aphrodisiacs: Mother Nature's answer to upping the sex drive of the one you love.
Swimsuit Spring Spectacular: More of what you requested and what Musclemag is good at... 32 extra pages of sex, sun and sizzle with the most beautiful, fit females in the sport.
Hair Today - Gone Tomorrow: It doesn't take a Rhodes scholar to see that many bodybuilders, both male and female are thin on top. Will Brink tells us why?
Biography:
The Whole Story! How new North American champion John Simmons won his pro card.
Lee Apperson's Black & White Kick Ass Attitude: Lee Apperson - the reigning two time heavyweight Mr. America has undergone a radical change.
Star Profile: We feature German Giant Achim Albrecht.
Contests:
The Canadian Bodybuilding Championships: Greg Kovacs storms Hamilton!
Regulars:
Arnold Hotline: with Tyler Dinwoodle
Beef It! Ultimate Muscle
Body by Fisher: with Dave Fisher
Bodybuilding Basics: Getting it all to grow
Canadian Corner: with Garry Barlett
Doctor's Corner: with Dr. Mauro DiPasquale
First Rep: Editorial
Fit Mart: New products and ideas
Hardcore Training Journal: For the devoted muscle builder
Intake Update: With Will Brink
Last Rep: Ultimate Pump
Muscle: News, Views, Gossip
Muscle Beach: West Coast Rap
Muscle Mail: Reader's Forum
Muscle News: With Robert Kennedy
Muscle Tips: Reader's Advice
Muclemag Quiz: Physiques Challenge
Musclemag's Pro Ranking: Latest Update
New Faces: Stars of the Future
Our Way: Probing the Pros
Overheard: The Spoken Word
Parrillo Maxx: With John Parrillo
Power Page: With Chris Confessore
Pro Training: With Charles Glass
Super Fitness: With Marla Duncan
Superbodz: with Larry McCusker
The Word: Muscle at its best
Top Bodz: Muscle at its best
What if? With Larry McCusker
What's ON: When, Where and Who?
---