---
Musclemag International Magazine

For more information, call (905) 678-7311
---
April 1997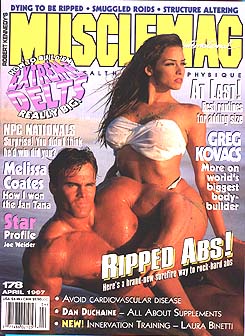 The April issue features an interview with Joe Weider, the father of Bodybuilding. Other interesting articles includes a few on how smugglers bring in steroids from Mexico, and how Mellisa Coates won the Jan Tana. Training articles include one on the best routines for adding size and strength to your physique. This months cover features Cari Nadine and Grant Henderson.
Robert Kennedy's Musclemag International prides itself in the principle of building health, fitness and physique, and considers themselves the 'What's New' Magazine of Bodybuilders. This magazine covers all bodybuilding events and techniques, and has excellent pictures. Serious bodybuilders will enjoy this magazine.


---
April 1997 Table of Contents
---
Training:
Extreme Delts! Your guide to ultimate shoulder training!
Bi/Tri Training: Here's a cable routine that will leave you up in arms.
Structure Altering: Is it really possible to give your body the appearance of having wider shoulders and a deeper rib case with a narrow waist and hips? Yes!
New Angles for Abs: The advantages of buddy ad training.
Innervation Training: Top trainer Scott Abel works physical wonders. See how he does it.
Super Mass and Power Workouts! The best routines for adding size and strength to your physique.
Features:
Dying to be Ripped: DNP - the latest 'stupid bodybuilding trick'.
Smugglers' Blues: The cunning ploys used by roid smugglers to get all that lovely stuff in from Mexico to kill you.
Cardiovascular Disease: One more reason to avoid extremely low fat diets
Duchaine and GH made from dead Russians! Whenever Dan Duchaine talks about supplements, you can bet the dialogue will be a tad unusual.
Biography:
Melissa Coates "How I won the Jan Tana"
Star Profile: This month we profile Joe Weider, the man whom many refer to as Mr. Bodybuilding.
Contests:
The 1996 NPC Nationals: The NPC contest crown was all set for a National upset.
Regulars:
Arnold Hotline: with Tyler Dinwoodle
Beef It! Ultimate Muscle
Body by Fisher: with Dave Fisher
Bodybuilding Basics: Getting it all to grow
Canadian Corner: with Garry Barlett
Fit Mart: New products and ideas
First Rep: Editorial
Hardcore Training Journal: For the devoted muscle builder
Intake Update: With Will Brink
Last Rep: Ultimate Pump
Muscle: News, Views, Gossip
Muscle Beach: West Coast Rap
Muscle Mail: Reader's Forum
Muscle News: With Robert Kennedy
Musclemag Quiz: Physiques Challenge
Musclemag's Pro Ranking: Latest Update
New Faces: Stars of the Future
Our Way: Probing the Pros
Parrillo Maxx: With John Parrillo
Pro Training: With Charles Glass
Super Fitness: With Marla Duncan
Superbodz: with Larry McCusker
The Word: Muscle at its best
Top Bodz: Muscle at its best
What if? With Larry McCusker
What's ON: When, Where and Who?
---