---
Musclemag International Magazine

For more information, call (905) 678-7311
---
March 1997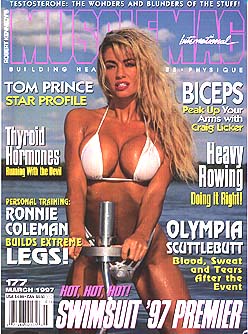 March 1997 issue features the Swimsuit 1997 premier, with lots of sexy fitness women in the latest swimsuits. Also, this months star profile features Tom Prince, and his latest quest for a pro ranking. Training articles include Ronnie Coleman's leg training, and Aaron Bakers back principles. This month's cover features Kim Paul.
Robert Kennedy's Musclemag International prides itself in the principle of building health, fitness and physique, and considers themselves the 'What's New' Magazine of Bodybuilders. This magazine covers all bodybuilding events and techniques, and has excellent pictures. Serious bodybuilders will enjoy this magazine.


---
March 1997 Table of Contents
---
Training:
"My back-packing principles: A to Z, from lats to Christmas tree. The Aaron Baker way.
Rowing for Maximum Back Development: Easy steps to a wider, thicker back for you.
Olympia Scuttlebutt: Now that the dust of the Olympua has settled, find out more about the laughter and the tears.
Craig Licker's "Heart Stopping Biceps Blasting: A catch all elixir for guns firing blanks...
State of the art Leg Training: Ronnie Coleman shows you how to blast your legs, in a leg workout to remember.
Features:
Swimsuit 97 Premier: More sun, fun and sexy fitness stars in this pictorial just for you.
Running with the Devil: Thyroid hormone use in bodybuilding may help you get ripped, but it will also have your heart doing the macarena off your ribs. Find out more if you want to survive!
Walking the walk and talking the talk! Will Brink's take on the wonders and blunders of testosterone
Hydroxycut! A look behind the hype.
Biography:
Star Profile: Tom Prince, so near and yet so far from pro status.
The Ali's Willoughby story: All that I can be!
Contests:
Showdown of the Pros: Photo report from the six European Grand Prix contest.
Master's Olympia: Johnny Fitness reports from Chicago on the highest quality Master's O ever.
Fitness Olympia: Muscle proves stronger than iron in Chicago.
Regulars:
Arnold Hotline: with Tyler Dinwoodle
Beef It! Ultimate Muscle
Bodybuilding Basics: Getting it all to grow
Canadian Corner: with Garry Barlett
Fit Mart: New products and ideas
First Rep: Editorial
Hardcore Training Journal: For the devoted muscle builder
Intake Update: With Will Brink
Last Rep: Ultimate Pump
Muscle Beach: West Coast Rap
Muscle: News, Views, Gossip
Muscle Mail: Reader's Forum
Muscle News: With Robery Kennedy
Musclemag's Pro Ranking: Latest Update
New Faces: Stars of the Future
Our Way: Probing the Pros
Overhead: The Spoken word
Parrillo Maxx: With John Parrillo
Pro Training: With Charles Glass
Super Fitness: With Marla Duncan
The Word: Muscle at its best
Top Bodz: Muscle at its best
What if? With Larry McCusker
---