---
Musclemag International Magazine

For more information, call (905) 678-7311
---
December 1996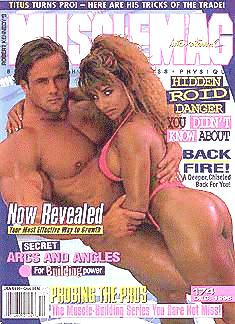 Mia Finnegan is this months Star Profile. Other wonderful articles include Don Long's delt training, the hidden dangers of steroids, and a report on the Canada Cup IV. This months cover features Craig Titus and Angelique Beltier.
Robert Kennedy's Musclemag International prides itself in the principle of building health, fitness and physique, and considers themselves the 'What's New' Magazine of Bodybuilders. This magazine covers all bodybuilding events and techniques, and has excellent pictures. Serious bodybuilders will enjoy this magazine.
---
Table of Contents - December 1996 issue
---
Training:
Arcs and Angles: Finding the proper groove for each exercise.
Backfire! Back burning tips from the IFBB's newest pro, Craig Titus.
New Thoughts on Reps: The most effective ways to stimulate growth and increase strength through rep variation.
Don Long's Double Headed Monsters: Serious delt-training with an NPC winner.
Features:
Still more steroid delusions: Will Brink is at it again, opening our eyes to the many hidden dangers, absurdities and outright suicidal behavior of ultra roid takers.
Performax: Snake oil or the Real Deal? Everyday, it seems, brings a new, better than all the others supplement to confuse the bodybuilder. Here, Garry Bartlett gives you his personal feedback on an embryonic hormone formulation called Perfomax.
Creatine! How to make sure you're getting the best creatine bang for your buck
Biography
Star Profile: Mia Finnegan
Contests
1996 Canada Cup: Report from Montreal on the Canada Cup IV amateur bodybuilding contest
Regulars
Arnold Hotline: with Robert Kennedy
Beef It! Ultimate Muscle
Body by Fisher: With Dave Fisher
Canadian Corner: with Garry Barlett
Doctor's Corner: with Dr. Mauro DiPasquale
First Rep: Editorial
Fit Mart: New Products and Ideas
Intake Update: With Will Brink
Last Rep: Ultimate Pump
Low Fat Meals: Of the Stars
Muscle Beach: West Coast Rap
Muscle Bodz: With Larry McCusker
Muscle: News, Views, Gossip
Musclemag Quiz: Free One Year Subscription
Musclemag's Pro Rankings: Latest Update
Muscle Mail: Reader's Forum
Muscle News: With Robert Kennedy
Muscle Tips: Reader's Advice
New Faces: Stars of the Future
Parrillo Maxx: With John Parrillo
Pro Training: with Charles Glass
Probing the Pros: Insight into Muscle Building Success
Repping with Marjo: With Marjo Selin
Super Fitness: With Marla Duncan
The Wild Physique: With Vince Gironda
Top Bodz: Muscle at its best
What if? With Larry McCusker
What's On: When, Where and Who
Wisdom of Grimek: with John Grimek
---