---
Musclemag International Magazine

For more information, call (905) 678-7311
---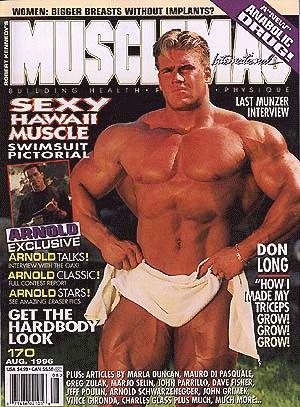 The August 1996 Musclemag International issue features interviews with Andreas Munzer (days before his death), and Arnold Schwarzenegger.  Also, articles on how to build triceps by Don  Long,  the Ironman Contest pictorial, and how to get Breasts (for Women). The cover features Jay Cutler.
---
Robert Kennedy's Musclemag International prides itself in the principle of building health, fitness and physique, and considers themselves the 'What's New' Magazine of Bodybuilders. This magazine covers all bodybuilding events and techniques, and has excellent pictures. Serious bodybuilders will enjoy this magazine.


---
August 1996 Table of Contests
---
Training:
Titanic Tris! Don Long is 245 pounds of workout energy, and he loves building triceps.
Shoulders Rule! Building might shoulders the Dente way.
Last Chance Shape Up: Whipping yourself into shape in time to catch the last of the summers rays.
Creating the Illusion of Size: Every woman desires to have attractive breasts, but if you don't want implants, how do you get them?
Getting the Hard-Body Look! Greg Zulak's A to Z diet and training secrets for every woman who wants to be hard, lean and sexy..
Features:
A 'New' Anabolic Drug? Imagine a high powered, muscle  building, endurance enhancing drug, free from all side effects,  which has been in existence yet remained unknown since 1976 - interesting, eh?
Fitness in Paradise: People don't move to Hawaii to work, they go to see beautiful women who train!
Biography
Star Profile: Jeff Poulin, 1994 North American champion
Andreas Munzer: Last interview: Just days before his tragic premature death, Lori Grannis conducted what was to become the most poignant interview of her life.
Arnold Schwarzenegger: One on One Interview. revealing and a must read!
Contests
Ironman Pictorial: Photo report from Redondo Beach
Regulars
Arnold Hotline: with Tyler Dinwoodie
Ask Bob: with Robert Kennedy
Beef It! Ultimate Muscle
Body by Fisher: With Dave Fisher
Canadian Corner: with Garry Barlett
Doctor's Corner: with Dr. Mauro DiPasquale
First Rep: Editorial
Fit Mart: New Products and Ideas
Hardcore Training Journal: Gaining Muscle at a Glance
Intake Update: With Will Brink
Last Rep: Ultimate Pump
Muscle Beach: West Coast Rap
Muscle Bodz: With Larry McCusker
Musclemag Quiz: Free one year subscription
Musclemag's Pro Rankings: Latest Update
Muscle Mail: Reader's Forum
Muscle News: With Robert Kennedy
New Faces: Stars of the Future
Overhead: The Spoken Word
Parrillo Performance: With John Parrillo
Power Page: With Chris Confessore
Pro Training: With Charles Glass
Repping with Marjo: With Marjo Selin
Super Fitness: With Marla Duncan
Wisdom of Grimek: With John Grimer
The Wild Physique: With Vince Gironda
The Word: According to Mick Hart
Top Bodz: Muscle at its best
What if? With Larry McCusker
What's On: When, Where and Who
---