---
Musclemag International Magazine

For more information, call (905) 678-7311
---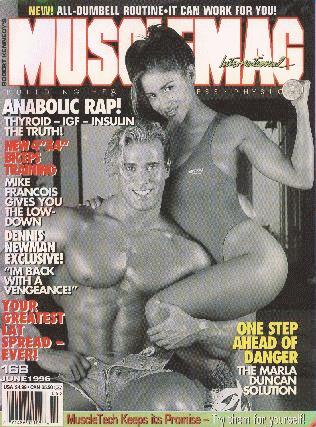 The June 1996 issue features an interview with Dennis Newman, and his future in bodybuilding. Also, biceps training with Mike Francois, more info an anabolic truths, and Marla Duncan talking about the dangers of modeling. Also, photo coverage of the Ms. Fitness America, and the Canadian amateur bodybuilding contests. This months cover features Mike O Hearn, and Christi Walker.
---
Robert Kennedy's Musclemag International prides itself in the principle of building health, fitness and physique, and considers themselves the 'What's New' Magazine of Bodybuilders. This magazine covers all bodybuilding events and techniques, and has excellent pictures. Serious bodybuilders will enjoy this magazine.


---
Table of Contests - June 1996 issue
---
Training:
Four by Four Bicep Training: Big Arm training success with Ohio's human forklift, Mike Francois
A Champion's Back Building Secrets! Building the best back you'll ever own with Lee Haney look alive and North American champion Stan McCrary.
The Greatest Lat Mass-Builder, Ever! There really is a number one mass builder for the entire lats, just one, and Greg Zulak tells us what it is
The All Dumbell Chest Routine that can promise Results
Features:
Muscletech Keeps its Promise! As promised last month, we've discovered what Muscle Tech's mega strength supplements are all about. Hey, there's even a way for you to get them.
Anabolic Rap: Will Brink on Dan Duchaine, Mike Mentzer, Dr. Colgan, Howard Stern, flax oil, thyroid, IGF, and insulin.
Steroids, Cholesterol & Athletes: Important information that no bodybuilder should be without
Wake up and Save Your Life! Life in front of the camera is not all smiles and funtime. Marla Duncan sounds off on her rules for model safety!
The End of a Legendary Gym: Vince Gironda calls it a day, and North Hollywood's magical gym is no more.
Biography
Star Profile: Dennis Newman: About his life, his illness, and his future in the pro ranks.
Interview with one of Bodybuilding's fastest rising stars: Andy Bryniarski
Contests
Ms. Fitness America: Amy Fadhli triumphs and how! Full coverage of Lou Zwicks fitness extravaganza.
The Canadas: Canada's biggest amateur bodybuilding event.
Regulars
Arnold Hotline: with Tyler Dinwoodie
Ask Bob: with Robert Kennedy
Beef It! Ultimate Muscle
Canadian Corner: with Garry Barlett
Doctor's Corner: with Dr. Mauro DiPasquale
First Rep: Editorial
Fit Mart: New Products and Ideas
Intake Update: With Will Brink
Last Rep: Ultimate Pump
Muscle Beach: West Coast Rap
Muscle Bodz: With Larry McCusker
Muscle Go Round: News, Views, Gossip
Musclemag Quiz: Free one year subscription
Musclemag's Pro Rankings: Latest Update
Muscle Mail: Reader's Forum
Muscle News: With Robert Kennedy
Muscle Tips: Reader's Advice
New Faces: Stars of the Future
News You Can Use: with Greg Zulak
Overhead: The Spoken Word
Parrillo Performance: With John Parrillo
Power Chow: with Hannu Selin
Show Biz: With Tyler Dinwoodie
Super Fitness: With Marla Duncan
The Word: According to Mick Hart
Top Bodz: Muscle at its best
What if? With Larry McCusker
What's On: When, Where and Who
Window on training: With Charles Glass
Wisdom of Grimek: With John Grimek
---