---
Musclemag International Magazine

For more information, call (905) 678-7311
---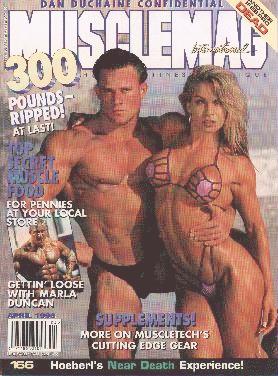 April 1996 Musclemag International issue features articles on top secret muscle foods, getting loose with Marla Duncan, Muscletech's cutting edge gear, Hoeber; s Near Death Experience, and Greg Kovacs 300 pounds ripped. On the cover of the magazine are Jason Arntz and Amy Fadhli.
---
Robert Kennedy's Musclemag International prides itself in the principle of building health, fitness and physique, and considers themselves the 'What's New' Magazine of Bodybuilders. This magazine covers all bodybuilding events and techniques, and has excellent pictures. Serious bodybuilders will enjoy this magazine.


---
Table of Contests - April 1996 issue
---
Training:
On the Wings of Eagles: Story of one man's desire to become a pro....Greg Davis
Shortcut to Shoulder Pads: Delt Training with Mr. Proportion, Milos Sarcev
Britain's Unchained Bulldog: Another monster lurking in Dorian's shadow...Shaun Davis
My Stretching Routine: Getting loose with Marla Duncan
Big D's Gift from the Gods: Gun Toting with big-armed Darin Lannaghan
300 Pounds... Ripped! New ultra-bodybuilder Greg Kovacs is close to 400 lbs off-season and 300 in contest trim. Is he the first of a new era of megabuilders.
Features:
Muscletech pushes the envelope! New supplement company zeros in on state of the art muscle gaining and fat loss products.
Beef & the Bodybuilder! Top secret muscle growth wonder food of the champs
Book Review: Bodybuilding Supplement Review
Biography
Star Profile: Manfred Hoeberl, back from near death
Dan Duchaine: The other side: Gura or con man?
Contests
The Women! Physique photographer Bill Dobbins launches a best seller
Team Universe Contest Report
Greatest Bench Press in America! Full Report
Regulars
Arnold Hotline: with Robert Kennedy
Ask Bob: with Robert Kennedy
Beef It! Ultimate Muscle
Body by Fisher: With Dave Fisher
Canadian Corner: with Garry Barlett
Doctor's Corner: with Dr. Mauro DiPasquale
First Rep: Editorial
Fit Mart: New Products and Ideas
Flashback: Stats and Facts
Instruction for Beginners: With Steve Davis
Intake Update: With Will Brink
Last Rep: Ultimate Pump
Low Fat Meals: Of the Stars
Muscle Beach: West Coast Rap
Muscle Bodz: With Larry McCusker
Muscle Go Round: News, Views, Gossip
Musclemag's Pro Rankings: Latest Update
Muscle Mail: Reader's Forum
Muscle News: With Robert Kennedy
Muscle Tips: Reader's Advice
New Faces: Stars of the Future
Overhead: The Spoken Word
Parrillo Performance: With John Parrillo
Repping with Marjo: With Marjo Selin
Show Biz: With Robert Kennedy
Super Fitness: With Marla Duncan
The Wild Physique: With Vince Gironda
The Word: According to Mick Hart
Top Bodz: Muscle at its best
What if? With Larry McCusker
What's On: When, Where and Who
---