---
Musclemag International Magazine

For more information, call (905) 678-7311
---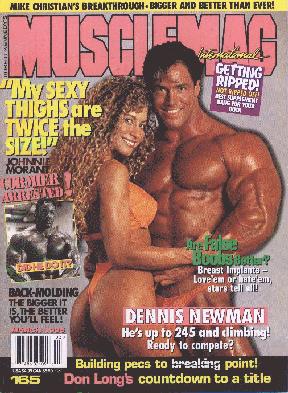 March 1996 Musclemag International issue features a report of what are the best supplements, an interesting report on breast implants, and much, much more, including Don Long, Jonnie Morant, Mike Christian, and Joe Spinello.
---
Robert Kennedy's Musclemag International prides itself in the principle of building health, fitness and physique, and considers themselves the 'What's New' Magazine of Bodybuilders. This magazine covers all bodybuilding events and techniques, and has excellent pictures. Serious bodybuilders will enjoy this magazine.


---
Table of Contents - March 1996 issue
---
Training:
How I Trained My Chapion's Chest: Pec pummeling with Don Long
King of the Quads: Johnnie Morant tells how he built the biggest thigh sweeps
Back-Molding: The bigger it is, the better you'll feel! Clay Jackson / Greg Zulak
Giant Triceps of Dave Hughes: Training tries with the Clarles Clairmonte look alike
Consistency: The Secret of Success: To fail, miss worksout, to succeed, then don't!
Features:
State of the Art Supplements: Which are the best, which are ripoffs, and will they ever replace steroids.
Olympia Confidential: Inside talk, gossip and secrets from the Atlanta Muscle Weekend.
Breast implants: We ask top bodybuilders and fitness women for their personal opinion. Are they outrageously sexy, ugly or just plan dangerous?
Biography
Christian Reborn: Mike climbs out from the pit bigger and better then ever!
Star Profile: Canadian Champ Joe Spinello
The $16,000,000 Girl: Sexy Windy Martinson
Contests
NPC Nationals: Full photo report
First Annual Fitness Olympia: Joe Weider enters the fitness race
Terilli takes the NABBA! Photo report from Birmingham, England.
Regulars
Arnold Hotline: with Robert Kennedy
Ask Bob: with Robert Kennedy
Beef It! Ultimate Muscle
Body by Fisher: With Dave Fisher
Doctor's Corner: with Dr. Mauro DiPasquale
First Rep: Editorial
Fit Mart: New Products and Ideas
Flashback: Stats and Facts
Instruction for Beginners: With Steve Davis
Intake Update: With Will Brink
Last Rep: Ultimate Pump
Low Fat Meals: Of the Stars
Muscle Beach: West Coast Rap
Muscle Bodz: With Larry McCusker
Muscle Go Round: News, Views, Gossip
Musclemag Quiz: Free One Year Subscription
Musclemag's Pro Rankings: Latest Update
Muscle Mail: Reader's Forum
Muscle News: With Robert Kennedy
Muscle Tips: Reader's Advice
New Faces: Stars of the Future
News you can use: With Greg Zuilak
Overhead: The Spoken Word
Parrillo Performance: With John Parrillo
Power Chow: With Hannu Selin
Power Page: With Chris Confessore
Repping with Marjo: With Marjo Selin
Show Biz: With Robert Kennedy
Super Fitness: With Marla Duncan
The Wild Physique: With Vince Gironda
The Word: According to Mick Hart
Top Bodz: Muscle at its best
What if? With Larry McCusker
What's On: When, Where and Who
Wisdom of Grimek: With John Grimek
---