---
Musclemag International Magazine

For more information, call (905) 678-7311
---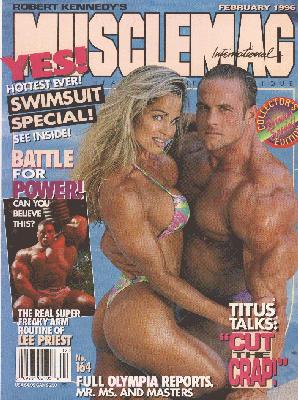 February 1996 Musclemag International issue features the annual swimsuit issue, with Amy Fadhili and many more. What a better way to warm up your cold winter days. Also, excellent coverage of the Olympia Weekend.
Craig Titus also tries to clear the air and squash the rumors as he 'Cuts the Crap' on the USA incident in Denver.
---
Robert Kennedy's Musclemag International prides itself in the principle of building health, fitness and physique. This magazine covers all bodybuilding events and techniques, and has excellent pictures. Serious bodybuilders will enjoy this magazine.


---
Table of Contents - February 1996 issue
---
Training:
Battle for Power: Right & Wrong way to increase basic power.
Fitness Hits Mainstream: If it's hit Entertainment Tonight, it's mainstream
Lee Priest's Superfreaky Arm Routine
Want to get Ripped? Eat Fat?
Features:
Craig Titus: Wants to Clear the air and Squash the Rumors!
Sex - It's Not All Heavy Breathing: What your mother did not tell you
Sex 'n' Sunshine! Greatest Swimsuit Special ever!
Fine Tuning Your Low Carb Diet: Part three on successful fat loss.
Biography
Garrett Downing: From Mama's Boy to Man of Muscle
Star Profile: Nikki 'Betty Boop' Fuller
Contests
Mr. Olympia: Dorian Redeemed! Pose by pose coverage
Ms. Olympia: X marks the spot. How Lenda's parents helped her take Ms. O
Masters Olympia: Year two! Sonny takes top billing.
Grand Prix Results: What happened at the six European Grand Prix
Regulars
Arnold Hotline: with Robert Kennedy
Ask Bob: with Robert Kennedy
Beef It! Ultimate Muscle
Body by Fisher: With Dave Fisher
Doctor's Corner: with Dr. Mauro DiPasquale
First Rep: Editorial
Fit Mart: New Products and Ideas
Flashback: Stats and Facts
Instruction for Beginners: With Steve Davis
Intake Update: With Will Brink
Last Rep: Ultimate Pump
Muscle Beach: West Coast Rap
Muscle Bodz: With Larry McCusker
Muscle Go Round: News, Views, Gossip
Musclemag Quiz: Free One Year Subscription
Musclemag's Pro Rankings: Latest Update
Muscle Mail: Reader's Forum
Muscle News: With Robert Kennedy
Muscle Tips: Reader's Advice
New Faces: Stars of the Future
News you can use: With Greg Zuilak
Overheard: The Spoken Word
Performance: With John
Power Chow
Power Page: With Chrism Confessors
Prepping With
Show Biz: With Robert Kennedy
Super Fitness: With Marla Duncan
The Wild Physique: With Vince Gironda
The Word: According to Mick Hart
Tidbits on Health: Maximum Health & Fitness
Top Bodz: Muscle at its best
What if? With Larry McCusker
What's On: When, Where and Who
---