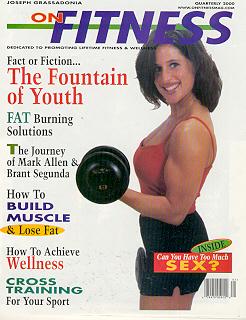 This new magazine; this issue is Volume 1, Number 1, is dedicated to promoting lifetime fitness and wellness, was started by Joseph Grassadonia, who is also the Publisher and Editor. It is a quarterly magazine in the Northern California area, and the web site is featured on www.onfitnessmag.com.

Features in this premiere issue includes:

In Pursuit of the Fountain of Youth
Body Fat Burning Solutions
Smart Training
Can You Have Too Much Sex?
How to Achieve Wellness?
Cross Training for your Sport
Journey of Mark Allen and Brant Secunda

---

Notes: Joseph's Granssadonia's goal is to give back and to inform and inspire you to live happy and healthy lives. He beleives that fitness, good nutrition, and a balance of body, mind and spirit are the steps on that pathway. Fitness and wellness take hard work and commitment and his hope is that 'On Fitness' will inspire you each day to stay on that noble path.

Mailing address is P.O. Box 1198, Soquel, CA 95073. Telephone number is (831) 662-8571. Copy Editor is Gail Penniman; Editorial Consultant is Susan Waltrous.