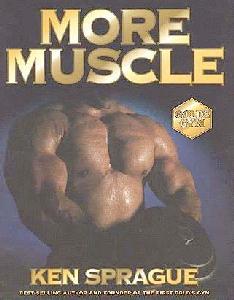 More Muscle was written by Ken Sprague, a best selling author and founder of the first Gold's Gym. More information on how to get this book, published in 1996, can be found at the web site of Human Kinetics.
The people who read and reveiwed the book found it to be informative, easy to understand, and quite interesting for the average person who wants to have 'more muscle' and get into shape. However, for your benefit, included here are the preface of 'More Muscle', the Table of Contests, and a little bio about Ken Sprague.
---
Preface
---
The genesis of More Muscle goes back more than 20 years when I was owner of the original Gold's Gym in Venice, California. The notes I began jotting down on both the practice and scientific basis of weight training had the makings of a book. In fact, I remember the original working title: Gold's Gym Science of Sport - a mouthful of pomp and circumstance.
My work at Gold's Gym offered a unique vantage point. The world's most "hard-core" bodybuilders, weight lifters, and professional athletes trained there, hour after grueling hour, to meet their lofty goals. And the few exercise scientists who were, at that time, studying the effects of weight training, followed the champions' every footstep.
Many of the gym members were everyday people, from all walks of life, with more modest training goals. Some were weight training for fitness, some for improved sports performance, some to achieve a more attractive appearance. Yet, however different the training goals for elite and average lifters may have been, all lifters had one thing in common: a desire for physical change.
More Muscle will help you achieve the positive physical changes you seek. If you are a high school or college athlete who wants to improve your strength and power, a well-developed bodybuilder who wants to look even more cut and buffed, or a fitness enthusiast who lifts regularly at home or the gym to get in better muscular shape, this book is for you.
In More Muscle you'll find man exceptional features, including the following:
A no-nonsense explanation of why weight training works.
Information-packed sections explaining the capabilities, special stresses, and the care and repair of the weight trainer's body.
Chapters that address your specific training goals. Is it more muscle mass you want, more strength, or more muscular endurance?
Fully illustrated exercises for both free weights and machines
Sample basic, advanced. and sport-specific lifting programs.
More Muscle is a composite of the training programs and opinions of those thousands of successful gym members, from Arnold Schwarzenegger who I saw every day in the gym, to men and women less renowned but equally content with their weight training achievements. More Muscle is also a personal statement, based on my 35 years of weight-training experience and a formal education that includes a Phi Beta Kappa key in science.
Part I prepares you for the training programs to come with a foundation of muscle building knowledge combining practical experience with the latest scientific research. Broad concepts of biology and physics are presented in terms of their significance for the weight trainer.
Part II is devoted to training, both how-to advice and supplementary information that brings the advice to life. Your personal training goals determine which training approach is for you: more muscular strength and power; more muscular endurance; or more muscular mass.
Part III is full of sound strategies for nutrition. weight gain or loss, and injury prevention; strategies that have worked for a generation of champions.
Let me add a final, important point about you and More Muscle. Whether you want more muscle, more strength, or more endurance, the two most important ingredients in reaching your goals are motivation and expertise.
Here is the table of contents of the book 'More Muscle'.
---
Table of Contents
---
Part one: How the Weight Trainer's Body Works
---
Chapter 1: Basic Muscle Science
Muscle Work Through Contractions
The Operating Strength of Muscle
Overload; The Driver of Muscle Changes

Chapter 2: Basic Cardiovascular Science
The Weight Trainer's Unromantic Heart
Blood and Gases
Transporting Heat, the By-Product of Contractions
Cardiovascular Training: The Basics
Super Strength and Cardiovascular Endurance Don't Mix

Chapter 3: The Mind Body Connection
The Brain: A Living Computer
Smarter Nerves
Tissue Remembrance: Returning after a Layoff
System Interactions
Motivation: You've Gotta Want It!

Chapter 4: Genetics
Who has more muscles, Mr. Universe or Miss America?
Interfering with Nature: Steroids
Genetics and Physical Characteristics

Chapter 5: Age Specific Training Factors
Kids and Weight Training
Adolescence: The Growth Spurt
Getting Older (than 30)
---
Part Two: Getting More Muscle From Your Training
---
Chapter 6: More Muscular Strength and Power
First of all: What is Strength?
Strength and Power: The Dynamic Duo
Sets, Reps, Weight, and Training Days
Strength and Power Training Programs

Chapter 7: More Muscular Endurance
No Pain, No Gain?
The Connection Between Strength and Muscular Endurance
Stick to Specifics
Muscular Endurance Training Programs

Chapter 8: More Muscle Mass
Want Big Arms? Work the Legs
The 'Pump-Up". Extra Energy for Working Muscles
Bodybuilding: Isolation Exercises
Muscle Mass Training Programs

Chapter 9: Lifting Techniques and Tips
Thigh Exercises
Calf Exercises
Chest Exercises
Back Exercisers
Shoulder Exercises
Biceps Exercises
Triceps Exercises
Abdominal Exercises
---
Part Three: Maintaining the Weight Trainer's Body
---
Chapter 10: The Table to Muscle Diet
Well Balanced: A Little of Everything
Counting Calories
Basic Nutrients

Chapter 11: Weight Gain, Weight Loss
The Body Feeds on Itself
Gaining Muscle while Losing Weight? It won't happen.
Bulk Up, Cut Down
Spot Reducing: It's in the Eye
Selective Muscle Loss
Getting Better, not just Bigger
Crash Weight Loss: A Homeostatic Shock!

Chapter 12: Training Safely and Nursing Injuries
Rules for Safe Training
Emergency Treatment: Rest, Ice, Compression, Elevation
Common (and Uncommon) Muscle Injuries
Long Term Maintenance Strategies
Returning after a Layoff
---
About the Author
---
Ken Sprague is a pioneer and a giant in the fitness industry. He owned and operated the original Gold's Gym in Venice Beach, California, for more than a decade. Under his leadership, the gym grew from a small business that grossed less than $20,000 a year to a world-famous, multimillion dollar conglomerate of fitness related businesses and entertainment events with more than 400 locations worldwide.
Because of this great success, Ken has been featured in hundreds of magazineand newspaper articles as well as on many television shows, including 60 Minutes, Good Morning America, and The Regis Philbin Show.
Ken has 35 years of practical weight training experience as well as a Phi Beta Kappa science degree from the University of Oregon and advanced training in sports physiology and psychology. During his career, he has used his expertise to train dozens of world and national weight lifting and bodybuilding champions. He has also shared his knowledge by lecturing on weight training and by writing several books on the subject. The Gold's Gym Book of Weight Training, Ken's first book, raised the public's interest in working out with weights and was a catalyst for the fitness boom of the 1970s and 80s. His other books include The Gold's Gym Book of Strength Training for Athletes, The Gold's Gym Book of Bodybuilding, The Athlete's Body, Sports Strength, and Weight and Strength Training for Kids and Teenagers.
As an organizer of weight training and bodybuilding events, Ken has also been very successful. During his years at Gold's Gym, he directed National and International bodybuilding championships, Mr. America competitions, National Powerlifting championships, and the first women's bodybuilding exhibition. Today, Ken continues- to write, teach, coach, and lecture about weight training. In his leisure time, he enjoys doing carpentry, taking fossil hunting field trips, and cross training with his wife, Donna. and their son, Chris.